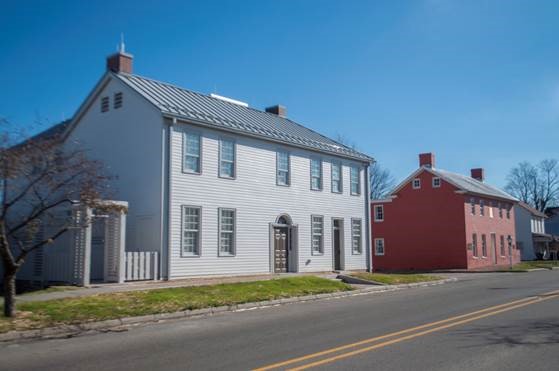 Come celebrate the opening of the new Interpretive Center at the Levi Coffin State Historic Site, timed to coincide with Indiana's 200th birthday. Visitors can enjoy self-guided tours of the new spaces, which include an introductory film and the exhibition Souls Seeking Safety, as well as a guided tour of the Coffin home.
Q&A with Legacy Project Coordinator Joanna Hahn
What do you consider the key accomplishment of your Legacy Project?
Dec. 10 and 11 we officially opened the Levi and Catharine Coffin State Historic Site Interpretive Center. This free event saw 129 visitors over two days. It was great to see so many from the local community, and county, come out to see our beautiful new museum that now is part of the visit to the site.
Describe a highlight or most memorable moment related to your Legacy Project.
Most who visited were very impressed. The community of Fountain City watched this building for two years as it was constructed and many were itching to see it once it was opened. Visitors remarked over and over again that the building was much more than they expected and are proud to see it as part of their community.
How/where are you preserving information and artifacts related to your Legacy Project?
The Indiana State Museum and Historic Sites maintains records of any objects and or paperwork related to our programs.
Total number of volunteers who participated.
Estimated total attendance.
Project Details
Organization: Indiana State Museum & Historic Sites
County: Wayne
Contact: Joanna Hahn, 812-345-2745, jhahn@indianamuseum.org
Type: Non-Profit
Project Number: IBC-HC-448