Indiana Rail/Highway Crossing Safety Program
The Railway Highway Crossing Program, herein referred to as the Section 130 Program is implemented in compliance with Indiana's Highway Rail Crossing Safety Action Plan and the Strategic Highway Safety Plan. Indiana's rail network encompasses approximately 4,400 miles of track. There are over 96,000 miles of highways and streets in Indiana. This convergence of railroads and highways presents a challenge for implementation of a crossing safety program. Section 130 program continues as an essential component of those plans to reduce fatal and injury crash risk. INDOT administers the Section 130 Safety Program.
Despite significant increases in both train and vehicular traffic, highway rail crossing collisions have steadily declined since year 2000. The decline in train-vehicle collisions is evidence of the effectiveness of the Section 130 program and its value to the public. In recent years, grade crossing safety projects have increased in complexity, cost, and present greater challenges. The 2015 Fixing America's Surface Transportation Act (FAST Act) continues the annual set-aside for railway-highway crossing improvements under 23 USC 130(e). The funds are set-aside from the Highway Safety Improvement Program (HSIP) apportionment.
Matching Funds
Section 130 Highway Rail Crossing Safety Program will pay 90% of the costs with the remaining 10 percent paid by the highway authority or the railroad [23 U.S.C. 130(f)(3)].
Typical Warning Device Upgrades
Section 130 funds are typically used to install train-activated warning bells, flashing lights, overhead cantilevers, gates, and constant warning time circuitry at highway rail crossings on the state and local highway system. Four-quadrant gates and median barriers to prevent motorists from driving around lowered gates) or other enhancements can also be installed as necessary.
Project Selection
INDOT's project selection is based on data driven analysis as well as identification of rail corridors needing warning device improvements. The INDOT Office of Traffic Safety develops the Section 130 program by creating a prioritized listing of crossing locations needing warning device improvements.
INDOT considers the following as best practices, in conjunction with a hazard index screen, for project design:
(1) Evaluate and improve warning devices at crossings already equipped with older or obsolete devices.
(2) Designate a rail corridor and improve warning devices along the entire segment (example- LIRC corridor).
(3) Identify crossings with excessive skew angle or other geometric deficiency such as raised (humped) crossings.
(4) Traffic signal preemption projects- study locations and evaluate preemption timing at existing preempted traffic signals at locations where crashes occur where a vehicle was stopped (trapped) behind another vehicle.
(5) Evaluate passive signage that is obsolete and upgrade to current IMUTCD.
(6) Install medians or four quadrant gate systems at locations where crashes have occurred due to vehicles driving around gates.
(7) Evaluate non-motorized vehicle and pedestrian crossings for pedestrian and trespasser crash risk.
(8) Eliminate crossings either by closure or construction of grade separations.
(9) Analyze any unique situations such as where adjacent land use changed dramatically.
The INDOT Local Public Agency and Grants Division works with local agencies to confirm locations where the local road owner and/or railroad are willing to contribute the 10 percent matching funds become projects.
An assessment of all public at-grade crossings utilizing the Web Accident Prediction System (WBAPS) Hazard Index is generated to develop a list of candidates for crossing improvements. A final list of candidate crossings is created; enough for roughly three years of safety projects, ranked from 'A' to 'D' with 'A' the highest priority for improvement. Outreach to local road agencies is initiated to determine if they will commit matching funds. In recent years the railroads have been amicable to funding the match for certain crossing safety projects. The construction year is scheduled contingent when the matching funds are secured from the local road agency or railroad.
With expected federal funding, the number of Section 130 crossing projects is roughly 20 crossings per year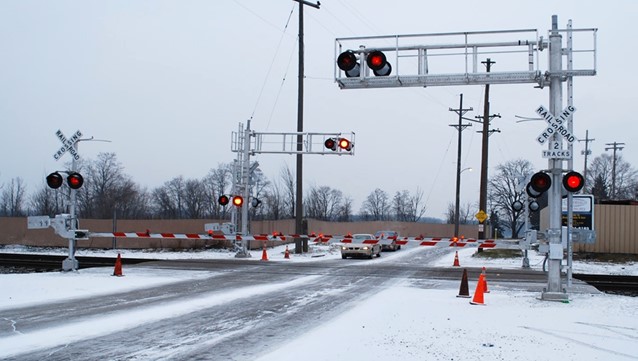 Project Implementation
Safety projects are funded with 90% federal funding and 10% matching funds provided by either the highway authority or the railroad. Once the project location is defined it is amended into the appropriate MPO Transportation Improvement Plan (TIP) and finally the Indiana State Transportation Improvement Plan (STIP). INDOT then assigns federal funding to the project for preliminary engineering and construction phases. Design drawings are created by the railroad. Projects are initiated by force account where an agreement is executed between INDOT and the railroad.
Safety Improvements with Local Funds Only
Local agencies are encouraged to initiate projects for crossing safety improvements using locally available funds. Local government agencies are allowed to fund and improve the crossing protection at public rail-highway crossings under their jurisdiction at any time. There is a common misconception that since INDOT administers Section 130, it is the only source of funding available for crossing safety improvements. Local safety concerns and knowledge are critical, and nothing prohibits a county, city, or town from funding safety improvements on their own.
If a local agency wishes to fund a rail safety improvement project at a public rail-highway crossing using 100% local funds, the INDOT Office of Traffic Safety, INDOT District rail-utility coordinators and INDOT Rail Office can assist with developing the project. The INDOT Rail Office should be contacted to assist in drafting agreements with the affected railroad when initiating a local rail-highway safety project.
Private Crossings
Section 130 funds cannot be used at private highway rail crossings.
Related Links