INDOT has implemented innovative, creative, and fiscally responsible solutions to get the most from every dollar spent while enhancing safety and improving Indiana's transportation infrastructure. INDOT continues to find, explore and develop new ways to plan, finance and construct Indiana's world-class transportation systems.
Milton-Madison Bridge
A technologically innovative construction method will save time and millions of dollars during construction of a new U.S. 421 bridgeover the Ohio River between Milton, Ky., and Madison, Ind. Using a method called "truss sliding, a new 40-foot wide, 3,181-foot-long truss;will be moved along steel rails and plates and "slide" into place atop the existing piers, which will be rehabilitated. Opened in 1929, the original Milton-Madison steel truss bridge is only 20 feet wide -- too narrow for modern traffic. Because of the innovative construction method,the bridge will close for a total of only 10 days during construction, rather than theoriginally 365-day closure. Low bid for the project was $103 million, 20 percent below the original $131 million construction estimate. Construction began in November 2010 and the new bridge will open to traffic this year.
Safety Edge
In 2011, INDOT incorporated safety edge into its construction specifications. Safety edge is a pavement design that includes an edge treatment for asphalt and concrete roads that improves roadway and traffic safety. Two-lane rural highways often have unpaved shoulders immediately adjacent to the paved roadway. If roadway maintenance does not keep material against the pavement edge, a pavement-shoulder drop-off may form. Drop-off heights can vary from less than an inch to six inches or more. When a vehicle leaves the paved roadway and encounters a pavement-shoulder drop-off, the side of the tire may scrub along the drop-off, resisting the driver's attempts to steer and make a smooth reentry to the roadway. This resistance often leads to driver over-correcting, which may slingshot vehicles across the road, resulting in serious traffic accidents. With safety edge, the pavement edge is formed at a sloped angle to lessen the resistance of a tire to remounting the drop-off and allows vehicles a more controlled reentry onto the roadway. INDOT is one of the first state departments of transportation to incorporate safety edge into its design specifications.
Intelligent Compaction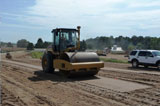 INDOT incorporated a quality control/quality assurance soils project using intelligent compaction into the U.S. 31 Kokomo Freeway project, which opened to traffic in November 2013. Embankment contractor Fox Construction used rollers equipped with sensors (accelerometers) that can determine the relative stiffness of the soil to map the embankment as it is constructed. The rollers also use Global Positioning System technology that can determine the coverage of the rollers over the embankment area. In 2010, INDOT first used intelligent compaction on the State Road 25 Hoosier Heartland project, making Indiana a leader among states in implementing this new technology that enhances long-lasting pavement performance. Intelligent compaction technology has been featured by the Federal Highway Administration on its Every Day Counts Initiative website, which highlights innovative technologies and processes that shorten project delivery, enhance the safety of the nation's roadways, reduce costs, and protect the environment.
Alternate Bidding Process
INDOT's traditional bidding method – in which INDOT developed plans and determined specifications, then selected the lowest bidder – left contractors with little room for offering alternative solutions or bidding based on what's most economical. INDOT modified its bidding to encourage contractors to submit alternative bids for selected projects. Among those modifications are:
Allowing contractors to bid with different materials, depending on the contractor's best price. For example, they can specify either asphalt or concrete for pavement, or concrete or steel for bridge beams. This allows contractors to offer INDOT much more competitive pricing.

Design-build contracting, for which INDOT specifies end results and design parameters and contractors develop proposals based on their individual construction capabilities.

Incentives and disincentives for meeting schedules. Contractors receive additional money for completing work ahead of schedule and lose money for falling behind. This ensures that contractors minimize traffic disruptions and meet deadlines.
Alternate Bidding has been used in two highly successful central Indiana projects: The South Split project which involved lowering the pavement on I-65 and I-70 in downtown Indianapolis, and the I-465/Allisonville Road interchange reconstruction, which involved replacing a 42-year-old bridge and a traditional diamond interchange with a Single-Point Urban Interchange. Both projects were completed ahead of schedule using alternate bidding.
High-Performance Concrete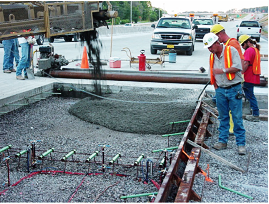 INDOT implemented a design change that cuts concrete roadbed repair costs by reducing the cost and improving the performance of concrete pavement. In the past, concrete slabs occasionally curled and warped after installation due to temperature variations. This curling impacts pavement performance and leads to premature mid-slab cracking. Conventional design solutions to this problem called for the installation of thicker pavement to reduce mid-slab cracks. Following a research project, INDOT and Purdue University's Joint Transportation Research Program (JTRP) discovered that shorter joint spacing can be used to reduce stresses in concrete slabs and prevent the occurrence of transverse cracks. Reducing slab joint spacing resolves curling and premature cracking, allowing for a reduction in thickness of the concrete roadbed. This solution reduced roadbed construction and repair costs by $1.2 million in 2011 and is projected to save more than $2.4 million over the following three years.
Replacing Nuclear Testing Equipment
INDOT engineers use nuclear gauges to perform soil compaction tests to measure soil density and water content, the primary criteria in determining soil compaction quality. These devices, however, are considered hazardous as they emit a beam of radiation particles. As a result, nuclear gauges require licensing, regulatory permitting and considerable training when used to measure soil density. For these reasons, INDOT funded a project with the JTRP at Purdue University to evaluate options to replace nuclear gauges. Test results with the Dynamic Cone Penetration Test (DCPT) demonstrated that the DCPT was effective in measuring density and water content of soils and could replace nuclear density gauges in soil compaction. Furthermore, the DCPT was found to be faster, easier to operate, and able to take deeper measurements than nuclear density gauges. As a result, a Recurring Special Provision using the DCPT for soil compaction quality control was developed and is now used on INDOT construction projects. More than 10,000 tests using DCPT have been performed. Projected annual savings for using DCPT as a tool for soil compaction quality control rather than the nuclear testing equipment is $480,000 annually.
Contact Information
Derek J Weinberg
Innovation & Enhancement Performance Analyst
Indiana Department of Transportation
100 N. Senate Ave., IGCN755
Indianapolis, IN 46204
317-233-2543
dweinberg@indot.in.gov

Barry K. Partridge, Ph.D, P.E.
Director-Research & Development
1205 Montgomery Street
P.O. Box 2279
West Lafayette, IN 47906-2279
765-463-1521 x251
bpartridge@indot.in.gov