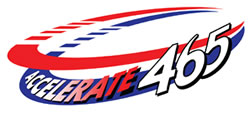 Completed in December 2012, Accelerate 465 was an INDOT project to reconstruct an 11-mile corridor of Interstate 465 on the west side of Indianapolis between State Road 67/Kentucky Avenue to just south of the 56th Street interchange. The project also involved rebuilding or upgrading seven major interchanges. Accelerate 465 was a response to increased traffic demands and safety requirements on this segment of I-465. This $423 million project was needed to expand transportation capacity, improve motorist safety and interstate access, and upgrade the road design to current standards.
Accelerate 465 improved pavement conditions, provided safe, more efficient interchange designs, and added additional northbound and southbound travel lanes in designated locations. This project also provided safe and efficient bicycle/pedestrian facilities to improve the mobility, connectivity and sense of community to neighborhoods that adjoin the project corridor.
Rated by INDOT as one of its top projects, work on Accelerate 465 began in 2007 and was substantially completed in the fall of 2012.
Maps
Contact Us
Customer Service
INDOT Greenfield District Office
32 South Broadway
Greenfield, Indiana, 46140
Phone: 1-855-463-6848
Eastcentralin@indot.in.gov