Hunting and Fishing Program
2022-2023 Hunting and Trapping Season
Welcome to the 2022-2023 hunting and trapping season! We hope that this year brings more exciting opportunities to enjoy the abundant natural resources on Camp Atterbury. Our goal is to offer safe, enjoyable and sustainable recreation to all personnel authorized to hunt on Camp Atterbury. Camp Atterbury enforces all state hunting, fishing and trapping laws.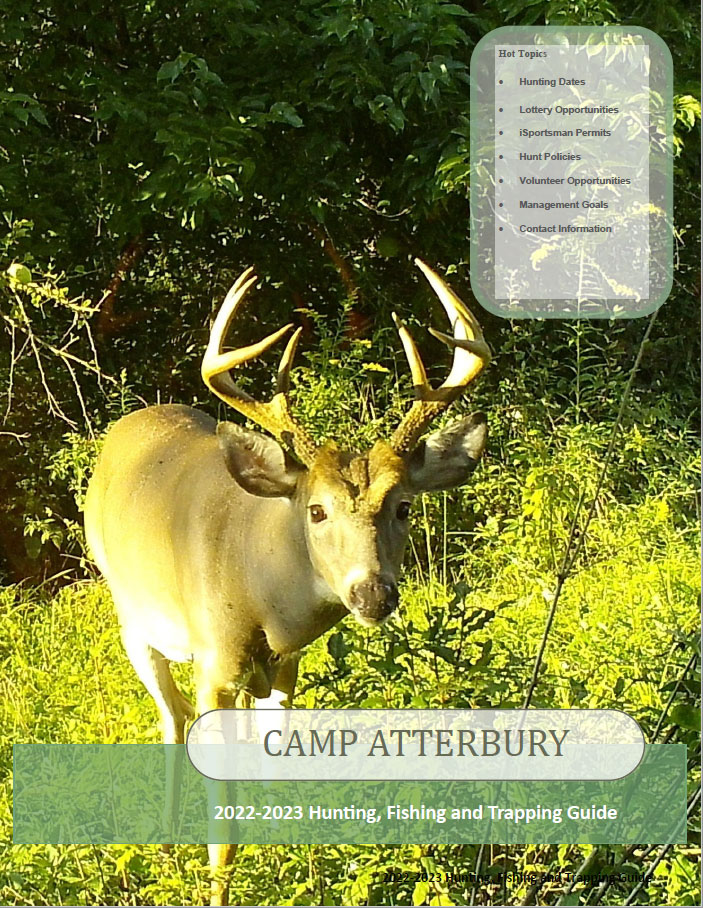 Camp Atterbury Hunting, Fishing & Trapping Guide
The 2022-2023 Camp Atterbury Hunting, Fishing & Trapping Guide provides a summary of Camp Atterbury hunting and trapping policies and is designed as a summary only. Visitors must also read in their entirety the hunting, fishing and trapping policy letters and CA Regulation 210-1 which can be found at the Range Control Division. The guide includes information about season dates, bag limits, license requirements, approved hunting hours, approved hunting equipment and personnel authorized to hunt on Camp Atterbury. It also includes details about turkey hunting, mushroom hunting, small game/bird hunting, waterfowl hunting, trapping and fishing.Thank you to all the hunters, anglers and trappers on Camp Atterbury for your continued support of conservation and ethical hunting that makes hunting on post a success.
Best of luck in the coming season!
2022-2023 Camp Atterbury Hunting, Fishing & Trapping Guide
Highlights
All Camp Atterbury recreationists must register and purchase permits with iSportsman.
All recreational users must carry a working cell phone at all times while on Camp Atterbury.
All hunters and trappers must have a valid hunting license in accordance with Indiana state law.
Any use of alcohol while participating in hunting and trapping activities is strictly prohibited.
The use of all-terrain vehicles (ATVs), golf carts, motor bikes, or any other off-road motorized conveyance is strictly prohibited.
Two pieces of hunter orange must be worn while hunting during any season that requires hunter orange to be worn by state law. Hunters will wear a minimum of a hat/head cover and vest/coat. Two gloves or any other combination will not meet the requirements.
Camp Atterbury prohibits the use of unmanned aerial vehicles (drones).
Do not attempt to pick up any unexploded ordinance (bombs, ammunition, grenades, etc.).
Enter for a chance to deer hunt at Camp Atterbury. Participants will be chosen via random lottery draw. Drawings will be held through iSportsman. Winners must complete the iSportsman account process and purchase permits. Hunters must have all applicable state licenses and tags.
Please contact us if there are any questions at ng.in.inarng.mbx.hunting-program@army.mil or 812-526-1499, Ext. 61375.
Events and Dates:
Indiana National Guard Invitational Hunt, November 18-19, Firearm
Reservation Firearm Hunt, November 26-27, Firearm
The Indiana Army National Guard (INARNG) Hunting Program Board coordinates hunting activities on INARNG lands to provide safe, high-quality hunting opportunities for youth, Wounded Heroes, military service members and the public when compatible with the military mission.
iSportsman Downloads (PDF):