INDOT is investing nearly $100 million to build an electric vehicle (EV) charging network at strategic locations across Indiana. Through the National Electric Vehicle Infrastructure (NEVI) program created by passage of the 2021 Bipartisan Infrastructure Law, INDOT will contract with partners to build Level 3 DC Fast Charge charging stations along Indiana's federally-designated alternative fuel corridors (AFC's).
Indiana's effort feeds into a national initiative to create a network of at least 500,000 reliable chargers across the U.S. to support the growing adoption of electric vehicles.
Charging stations locations will be determined by federal guidance and using a data-driven approach considering EV miles traveled, EV adoption rates and growth models, existing and planned stations, and electric grid capacity among other factors. Locations will also be selected to ensure convenient, equitable access for users in rural and urban areas and station capacity, design and location will promote usage by passenger EV's and medium- and heavy-duty EV's.
Beginning in March 2022, INDOT in partnership with state's Office of Energy Development (OED) began drafting the federally-required State EV Implementation Plan. The plan includes the following considerations:
State Energy Office Coordination
Public Engagement
Plan Vision and Goals
Contracting
Existing and Future Conditions Analysis
Implementation
Civil Rights/Equity Considerations
Cybersecurity
Program Evaluation
INDOT and OED issued a request for information (RFI) on April 4, 2022 providing interested parties an opportunity to provide comments and data for consideration in the drafting of State EV Implementation. RFI responses were due by April 29, 2022. A questionnaire was also developed and disbursed to Indiana's utility groups to gather vital information.
::::UPDATE:::: On September 27, 2022 the Federal Highway Administration (FHWA) announced that they approved Indiana's EV plan. INDOT's next step is to contract with partners for the installation, operation, and maintenance of the EV charging stations.
NEVI Stakeholders Meeting
Date: Tuesday, May 23, 2023
Presentation slides:
Utility Webinar
Date: Wednesday, May 17, 2023
---
In 2022, INDOT hosted three in-person sessions to allow stakeholders across Indiana to provide feedback on the state's Electric Vehicle Infrastructure Deployment Plan.
During the in-person stakeholder meetings, the program team summarized the National Electric Vehicle Infrastructure (NEVI) program requirements, guided stakeholders through the elements of the plan, and had opportunities for attendees to ask questions and provide feedback.
The planning team discussed the overall outline for the plan and approach to its development, along with plan vision and goals. The team also presented the state's alternative fuel corridors (AFCs) and assessment of current and planned EV charging infrastructure along these corridors with respect to the specific NEVI requirements before proceeding into an open Q&A.
Please note: INDOT will not be discussing specific information regarding procurement and implementation processes or timeframes.
Virtual Open House Meeting
Date: Wednesday, May 11, 2022
Virtual Open House Recording
Presentation Slides
Northern Indiana Meeting
Date: Thursday, June 2, 2022
In-Person Meeting Presentation 6-2-2022
Meeting Notes
Central Indiana Meeting
Date: Thursday, June 9, 2022
In-Person Meeting Presentation 6-9-2022
Meeting Notes
Southern Indiana Meeting
Date: Tuesday, June 14, 2022
In-Person Meeting Presentation 6-14-2022
Meeting Notes
Virtual Public Meeting
Date: Tuesday, July 13, 2022
View public comments regarding electric vehicle charging infrastructure here.
What we did – implement a process to engage quickly with stakeholders across the state, and develop a plan to continue engagement post-submittal.

Public Survey

Of the 2,200+ public survey responses, 419 out of 434 (97%) of the DAC areas overlapped or was within a zip code area that was represented in the survey.

Virtual Events

May 11 Virtual Open House:

Outlined inclusion of equity in the plan

July 13 Virtual Plan Review:

Defined plan's approach to equity and the benefits identified
Discussed ongoing efforts to continue engagement and identify additional metrics in the program's first year.

In-person Meetings:

June 2 Northern Indiana
June 9 Central Indiana
June 14 Southern Indiana

One-on-One Meetings (Equity-Focused)

Indiana NAACP
Indiana State Conference of the NAACP
Evansville Branch of NAACP 3048-B
Black Lives Matter South Bend
Indiana Chapter, American Association of Blacks in Energy
Indiana Alliance for Equity in Electric Vehicle Diversity, and Inclusion of EV Infrastructure and Economic Opportunity

State Agency Coordination (on all elements of the plan, including equity and workforce development):

Governor's office
IURC
OED
IEDC

What we heard: there are barriers to adoption and a risk for excluding certain communities and INDOT should work with all stakeholders to work through them.

There are barriers to EV adoption in Indiana. EV infrastructure can help to overcome by:

Expanding the number and accessibility of charging stations in Indiana
Expanding tax breaks, subsidies, and incentives for charging stations and electric vehicles
Encouraging more affordable and efficient charging stations and electric vehicles
Increasing outreach and education to the public about electric vehicles and charging stations
Reducing the registration fee for electric vehicles in Indiana

INDOT should consider equity-focused criteria for prioritizing investment in EV infrastructure:

Increasing EV charging in rural Indiana
Proximity to communities with air quality concerns
Increasing EV charging in disadvantaged communities

INDOT's EV Infrastructure Implementation Program should:

Continue engagement with ethnically diverse, DAC and rural stakeholders regarding the plan development process and implementation plans.
Define additional equity metrics.
Facilitate a robust strategy for encouraging DBE/WBE/MBE participation throughout implementation.

How does the plan incorporate equity?

Defined benefits:

Percent of AFC miles that are within 50 miles of a charging station (and AFC miles in a DAC community).

The goal for proximity is 100% by the end of the NEVI program.

Percent of Indiana's population (and DAC community population) that is within 40 miles of a charging station.

The goal is 100% by the end of the NEVI program.

Metrics for robust and reliable infrastructure in all locations.

Number of sites implemented (total and in and near a DAC)
Number of ports implemented (total and in and near a DAC)
Percent of time at least one port is available at all sites (total and in and near a DAC)

Approximately 13% of AFC mileage is within a DAC area
100% of the preliminary sites are in or within 15-miles of at least one DAC area
62% the preliminary sites are in or within 5 miles of a DAC area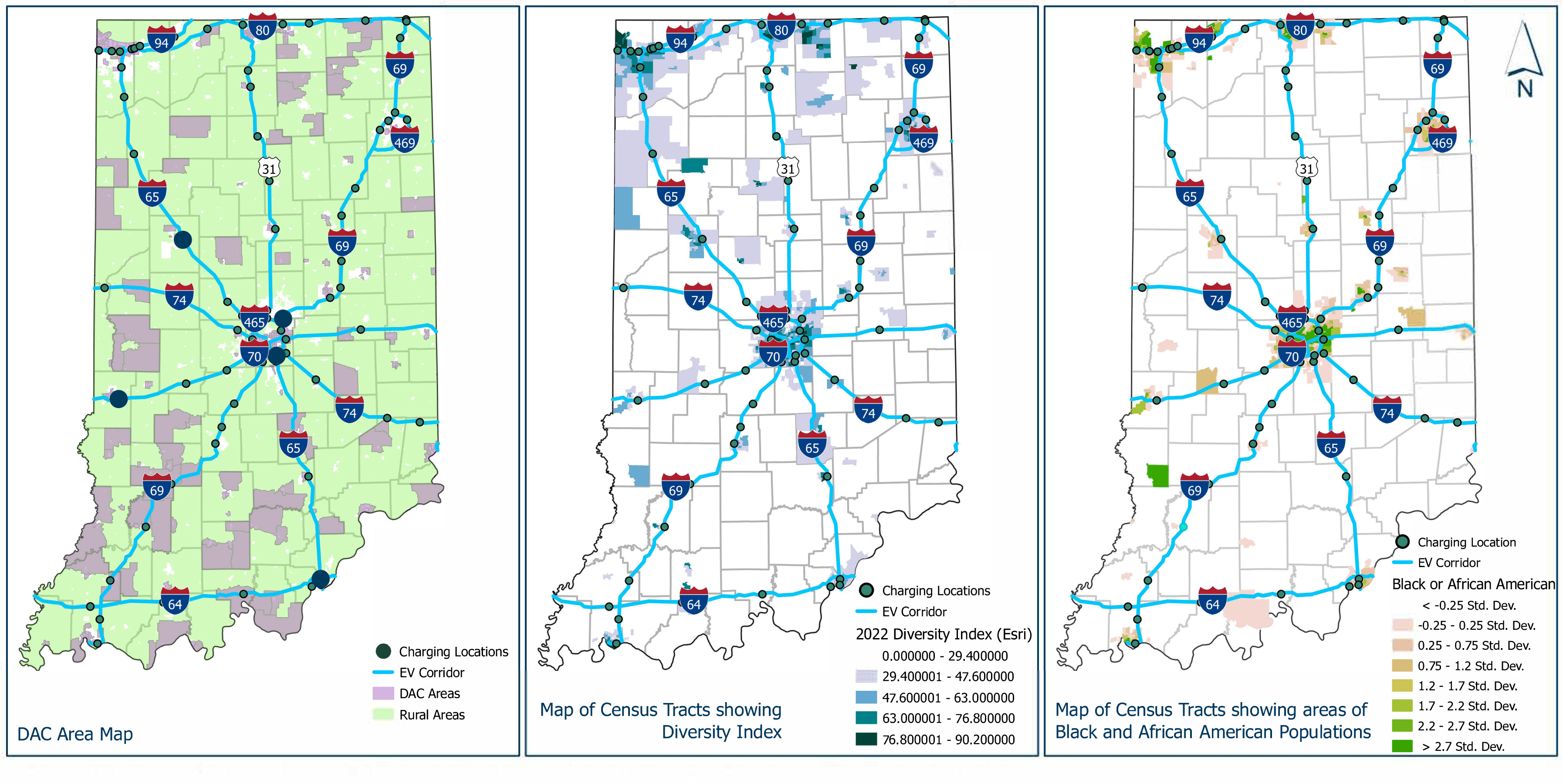 The U.S. Department of Transportation's new Charging and Fueling Infrastructure (CFI) Discretionary Grant Program will provide $2.5 billion over five years to a wide range of applicants, including cities, counties, local governments and tribes. This round of funding makes up to $700 million from Fiscal Years (FY) 2022 and 2023 available to strategically deploy EV charging and other alternative vehicle-fueling infrastructure projects in publicly accessible locations in urban and rural communities, as well as along designated Alternative Fuel Corridors (AFCs).
Email Updates
To sign up for updates or to access your subscriber preferences, click here.