Building Strong and Ready Teams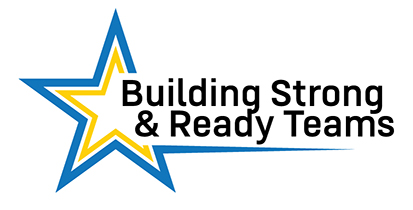 Building Strong and Ready Teams (BSRT) – formerly Strong Bonds – is a command directed, chaplain led, community partnered approach that strengthens spiritual readiness for soldiers of all ranks and their families. We work to increase the holistic health of soldiers and families by providing evidence-based relationship training and life skills necessary to endure adversity. Our programs build spiritual readiness and moral strength that lead to better decision making and healthier behavioral outcomes. We teach people to value themselves and others, and we ensure the free exercise of religion for all denominations.
The ABC's of Relationship Training
Alpha – 4 hour events. These events, primarily geared for the single soldier and for couples, focus on a specific theme and include a great meal. We like to choose a venue where you can continue to enjoy time together with friends or your spouse. The focus is on empowering the individual soldier to balance the stresses of military life while finding and building a healthy relationship that can last a lifetime. For couples, the half day focuses on one segment of our weekend training. Couples work on a specific area of their relationship to strengthen it and prepare the relationship to endure the many challenges of military life.
Bravo – 8 hour events. These events, geared for single soldiers, couples and families, allow soldiers and their families to learn together and take home ideas to incorporate into their daily lives. The venues selected help promote couple and family fun time during and after the event, and the ideas they take home can enrich and strengthen them as individuals and as a family unit.
Charlie – 12 hour events. These events, geared for couples and families, provide training to strengthen relationships, inspire hope and rekindle marriages. Whether you're celebrating one year of marriage or 20, this training will have something for you. You'll get quality time with your family through fun events and evening activities located at retreat centers and hotels.
Free lodging for Charlie events
Optional childcare with a certified childcare agency
Up to five meals paid
Take-home materials
Meeting other military individuals and families
Event locations throughout the state of Indiana
Singles. With three different curricula, we offer events that focus on resilience and becoming a more effective leader to healthy relationships and learning how others can shape our lives.
Married Couples. We have six different sets of materials to help couples strengthen the marital bond and to give couples the tools and information they need for better communication and relationship building.
Families. Using three curricula, our facilitators help teach effective communication and listening skills to parents and children and build parental skills to help care for and manage children. Note: Children are active participants in all Strong Bonds for Families Retreats.
Families of Deployed. Provides tools to enable families not just to survive, but to thrive in the midst of their soldier's deployment. Note: Children are active participants in all Strong Bonds for Families of Deployed training events.
Pre-Deployment. Provides modules identifying unique challenges that single soldiers, married couples and Army families will face, and planning how they will manage their relationships through the stress of pre-deployment.
Reintegration. Provides tools to assist soldiers and their families with issues pertaining to the transition from the battlefield to the home front, as family members adjust to disrupted routines and challenges of reconnection.
Title 10, Chapter 88, Section 1789 and paragraph 16-6e AR 165-1 (Annex F) states the authority for participation in chaplain-led events:
Active Duty Soldiers, Reserve Component (ARNG and USAR) Soldiers in an active status, and their immediate family members are eligible to participate in Building Strong and Ready Teams training events.
"Immediate family members" means: 1) The member's spouse or 2) Any child of the member as described in 10 USC 1072, subparagraph (2)(D) and subparagraph (6).
No authority exists for Department of the Army (DA) civilians to participate in the Building Strong and Ready Teams program.
Building Strong and Ready Teams is a U.S. Army program authorized and funded to provide support to soldiers and their families; attendance at Building Strong and Ready Teams events is restricted to soldiers and Army families.