Office of the Staff Judge Advocate
"Soldier First, Lawyer Always"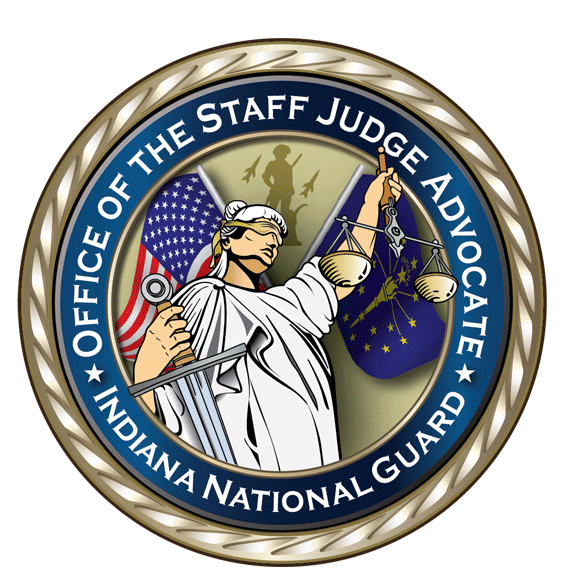 The Indiana National Guard Office of the Staff Judge Advocate (OSJA) serves as the legal adviser to the command, advising on a wide range of issues. OSJA also provides trial defense and free legal assistance services to Indiana Guardsmen. OSJA is also commonly known as JAG (Judge Advocate General). Officers serving in the JAG Corps are often referred to as JAGs. Indiana's OSJA offices are located at the Stout Field headquarters building in Indianapolis.
Mission: Provide timely and quality legal support to the adjutant general and his staff as well as subordinate commands, and the soldiers of the Military Department of Indiana, their dependents, and all others eligible for legal support.
About this Website: Nothing contained in this website is a substitute for the competent legal advice of a licensed attorney. This website is intended to provide general information about our services, and does not produce legal documents. All information contained within this website is for informational purposes. Seek legal advice before relying on information contained in this website.
Services
Legal assistance and trial defense services are available to members of the Indiana National Guard and to their dependents, retired military personnel and their dependents, and survivors of members of the Armed Forces who would be eligible if the service member was alive.
OSJA provides a wide range of legal assistance services, without charge and by appointment only. Appointments must be scheduled in advance; we do not provide services on a walk-in basis. Please note that we are NOT authorized to appear with you as your attorney of record on legal assistance matters in any court.
Our legal assistance services include:
Wills
Living wills
Notarization
Powers-of-attorney
Advice on most personal legal matters, including automobile accidents, wills, credit matters, repossessions, consumer complaints, living wills, health surrogate forms, tax assistance, life insurance contracts and powers of attorney
Review of legal documents, including contracts and leases if they are not related to a private income-producing business
Preparation of correspondence and other legal documents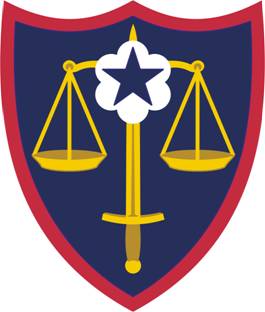 OSJA provides specified defense counsel services whenever required by law or regulation and when authorized by our higher headquarters.
Our trial defense services include:
epresenting soldiers charged with military criminal offenses at trial
Representing soldiers during criminal investigations and before elimination or grade reduction boards
Counseling soldiers regarding pretrial restraint, nonjudicial punishment and various adverse administrative actions taken pursuant to military regulations
Army National Guard
Contact us at 317-247-3449. Our resources are limited. We contact our clients on a first-come, first-served basis and reply to inquiries and requests for assistance as quickly as possible.
Air National Guard
Airmen seeking legal defense services should contact the appropriate legal office to provide them assistance. Members assigned to the 122nd Fighter Wing should contact the legal office in Fort Wayne at 260-478-3317. Members assigned to the 181st Intelligence Wing should contact the legal office in Terre Haute at 812- 877-5385.
Working for the Office of the Staff Judge Advocate
JAG Corps
The Indiana National Guard Office of the Staff Judge Advocate actively recruits members of the military to join the Judge Advocate General (JAG) Corps. The JAG Corps provides an excellent opportunity for young lawyers to experience a number of different legal fields and to become involved in a broad range of cases. Judge Advocates may serve as prosecutors in criminal cases (courts-martial) or in legal assistance to provide counsel and advice to soldiers, retirees and their families. Legal fields include civil litigation and administrative, contract, international, labor and medical law. Contact us if you are interested in learning more.
Paralegal
The Indiana National Guard Office of the Staff Judge Advocate actively recruits paralegals. If you are looking for a challenging opportunity to serve, and you have an associate's degree in paralegal studies or a bachelor's degree in another field and a certificate in paralegal studies, this field may be right for you. Paralegals assist the legal team by conducting research; drafting correspondence, reports and legal documents; filing documents with the court; maintaining filing systems and handling the phones/intake process. Paralegals must demonstrate excellent communication, computer, interpersonal, organizational and research skills. Contact us if you are interested in learning more.
Contact Us
Mail
---
Office of the Staff Judge Advocate
Headquarters
Indiana National Guard
2002 South Holt Road, Bldg 1, Room 1253
Indianapolis, IN 46241