"As Real as it Gets"
Muscatatuck Training Center (MuTC) offers users a globally unique, urban and rural, multi-domain operating environment that is recognized as the Department of Defense's (DOD's) largest and most realistic urban training facility serving those who work to defend the homeland and win the peace.
Muscatatuck is a real city that includes a built physical infrastructure, a well-integrated cyber-physical environment, an electromagnetic effects system and human elements. Muscatatuck offers realistic, flexible and affordable training and testing scenarios. The site supports customized live/virtual/constructive (LVC) training, developmental testing and evaluation.
Multi-Domain Environment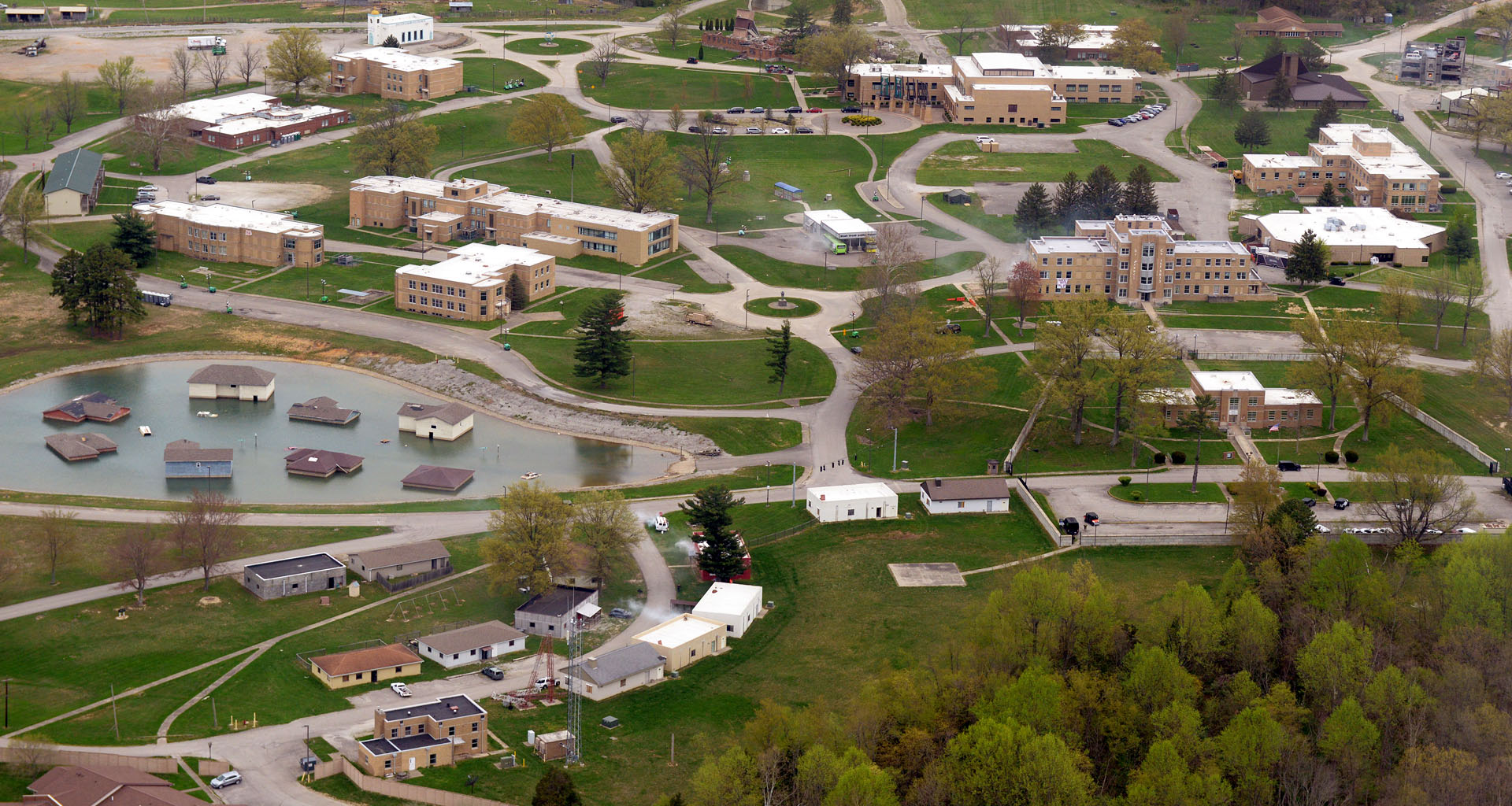 Click to enlarge
The multi-domain environment includes a physical metropolitan infrastructure, a 1,000 acre urban and rural landscape with more than 190 brick-and-mortar structures with roughly 1.5 million square feet under roof, 1.8 miles of subterranean tunnels, a cave complex, more than nine miles of roads, managed airspace, a 185-acre reservoir, and a cyber live-fire range. The Cyber Training Center is capable of supporting live offensive and defensive operations for all three tenants of multi-domain operations (MDO) at any echelon through live/virtual/constructive (LVC) training platforms. This integrated MDO environment touches the 21st Century battlefield domains of land, air, maritime, cyberspace and space and includes the electromagnetic spectrum and information environment. As users regularly add role-players to create dense urban terrain (DUT), the unpredictable realism slows operations while increasing the speed and complexity of tactical engagements.
---
The state of Indiana owns Muscatatuck and leases it to the U.S. Army. The National Guard manages the property as the premier advanced urban training facility used by military; local, state and national agencies; civilians and international partners.
Provide our customers with a complex urban environment as the best-value solution – clearly the most realistic and fully-integrated, yet fiscally responsible – for live, virtual, or constructive training, developmental testing and evaluation throughout the five domains of land, air, maritime, cyberspace and space, as well as the electromagnetic spectrum and information environment, for any echelon of a calibrated force, to allow a unique level of training and mission readiness in order to protect the homeland and win the peace.
Everything in the city and surrounding property, including the people, is "in play." Culturally authentic animals and role players can participate in exercise scenarios that are customized to user needs by subject matter experts (SMEs), who design foreign and domestic scenarios to replicate the most complex and dynamic multi-domain environments in which U.S. forces, DOD civilians and first responders operate. MuTC offers a robust and realistic electromagnetic environment, telecommunications infrastructure and a well-developed, closed network wireless environment.
MuTC employs a "network effect" operating model to generate two major values for the user: A highly realistic training/assessment environment at a cost-benefit ratio virtually impossible to achieve if attempted alone; and, the opportunity to collaborate as a "team of equals" with other agencies and entities that will be critical to mission success. Collaboration is effected while ensuring that each agency retains total control of its program.