38th Infantry Division Band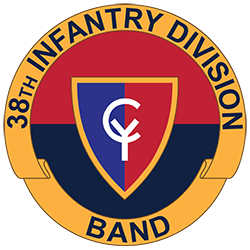 The 38th Infantry Division Band, headquartered in Indianapolis, was organized in 1917 and remains the only military band in the state of Indiana. The band's mission is to provide soldier and family support, recruiting and retention support, public diplomacy, community relations for community events and support for both military and civic functions throughout Indiana.
Members of the 38th Infantry Division Band are an eclectic group of musicians who serve their country one weekend a month and 15 active-duty days throughout the year. Members of the band come from all walks of life, and include college students, teachers, college professors, pastors, police officers, business entrepreneurs, local musicians and many other professions and backgrounds.
The 38th ID Band is comprised of several music performance teams, which play a wide range of music, from marches to popular tunes. We perform in a wide variety of events, including dedication ceremonies, general officer retirement ceremonies and funerals, veteran and Memorial Day activities, governor inaugurations, change of command ceremonies, military graduations, pregame and halftime support for professional football games, bugler and full band support for Indianapolis 500 activities, national anthem vocalist for numerous events, support for military funerals, holiday concerts and local parades.
Mission
The 38th Infantry Division Band represents the Indiana National Guard with honor by maintaining its standing as the most visible, most requested unit in the state, averaging more than 100 missions per year. We provide flexible, relevant and targeted music support where civilian entertainers cannot go. As one of eight states in the Army National Guard with division bands, the 38th Infantry Division Band serves a dual-purpose in Indiana—assigned as an operating force element while also performing the mission of a generating force band. The 38th Infantry Division Band performs its wartime mission throughout the training year in service to the state while fulfilling the vision of the adjutant general in strategic outreach to our soldiers, their families and the citizens of the state of Indiana.
Musical Support

Music Performance Teams

Soldier Support
Family Support
Recruiting and Retention Support
Public Diplomacy
Community Relations
Education (Department of the Army Pamphlet 220-90, p. 4)
Building partnerships between communities and all branches of service

Concert Band
Marching/Ceremonial Band
Brass Quintet
Jazz Combo
Saxophone Quartet
Show Band
Woodwind Quintet
History of the 38th Infantry Division Band
The 38th Infantry Division Band is recognized as one of the premier bands of the U.S Army. It is a great source of pride and patriotism for its members and for the military tradition of the state of Indiana.
Army Divisional Bands were not organized until the early part of World War II. Prior to that time, each regiment (infantry, filed artillery, engineers, medical, etc.) of a division had its own organic band, which dates back to August 1917 and organizations of the 38th Division and its regiments at Camp Shelby, Mississippi. Regimental bands continued in organized National Guard divisions following World War I. When the 38th Division was mobilized for active federal service in January 1941, it took a total of nine regimental bands to duty with it (six from Indiana, two from Kentucky and one from West Virginia.
In the 1942 reorganization of Camp Shelby, the 38th Division, along with all other Army divisions of that era, began to undergo a phased elimination of all regimental bands. In February of that year, the 139th Field Artillery Regiment Band from Indiana was redesignated as the new 38th Division Artillery Band. In September 1943, the 151st Infantry Regiment Band from Indiana was consolidated with the 38th Division Artillery Band to form the new 38th Infantry Division Band. The band was with the division throughout the war, including during its participation in the combat of the Southwest Pacific Theater.
Following World War II, the 38th Infantry Division Band was organized and stationed in Muncie, Indiana. Because of Army reorganization and realignment over the next several decades that placed divisional bands under the control of different divisional subordinate support headquarters and units at different times, it was difficult for the band to stabilize and earn the attention it needed and deserved. Assigned strength, proper equipment and facilities were constant challenges for the band. In November 1964, the band was relocated from Muncie to Indianapolis.
In the late 1970s and early 1980s, the Indiana National Guard gave serious attention to rebuilding the band and restoring its stature. The call went out to all who were interested, and a special effort was made to recruit professional civilian musicians. The band procured top-quality musical instruments and obtained additional uniforms and accessories. Band practice facilities were also improved, and gradually, in every respect, the band attained a high degree of professionalism.
The band started extensive touring throughout the year, and became much in demand at military and civilian events across the state of Indiana. Then in September 1990, the band was detached from all other headquarters and became a separate division unit of its own once again, a proud time for the band. In early 1996, the band relocated again to facilities at what is now the former Fort Benjamin Harrison Post in Indianapolis. In January 2015, the band relocated to Indiana National Guard headquarters at Stout Field in Indianapolis, into a permanent facility designed specifically for Army bands.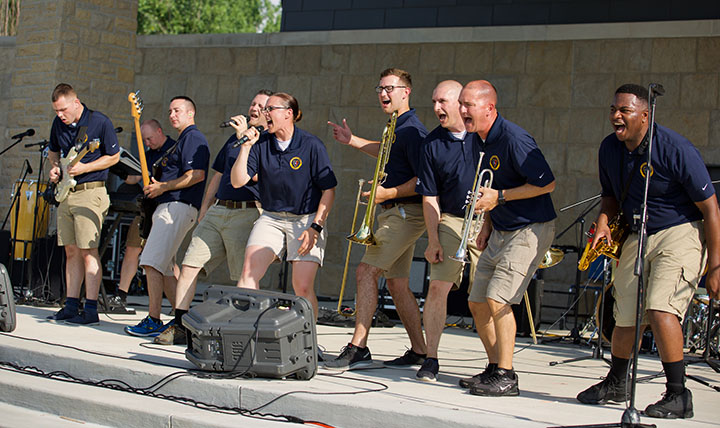 Joining the 38th ID Band
Any musician, male or female, between the ages of 17 and 35, who meets Army enlistment standards and who can pass a pre-arranged audition with the commander/bandmaster is eligible for acceptance. An Indiana National Guard recruiter will arrange the audition by contacting the band staff. Auditions are held at Stout Field in Indianapolis.
Contact Us
DD Form 2536
---
A request for the 38th Infantry Division Band needs to be submitted at least 90 days prior to the event on a completed DD Form 2536:
Email
---
Email the completed DD Form 2536 to the 38th ID Band Full-Time Unit Support Staff:
Address
---
38th Infantry Division Band
2002 South Holt Road, Building 1
Indianapolis, IN 46241