About the Indiana Army National Guard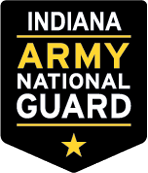 The Indiana Army National Guard is an organized militia force and a federal military reserve force of the United States Army. The National Guard has a dual federal-state mission that is unique to the U.S. military, and which sets it apart from any other reserve component.
During peacetime, the National Guard is commanded by the governor. In its state role, the National Guard assists local law enforcement agencies during emergencies at the direction of the governor. The distribution of soldiers, equipment and facilities across the state allows the National Guard to respond quickly and efficiently to emergencies statewide.
During times of national emergency, National Guard members may be called into active federal service by the President of the United States.
The Indiana Army National Guard's major commands include the 38th Infantry Division, 38th Aviation Battalion, 38th Sustainment Brigade, 76th Infantry Brigade Combat Team, 54th Security Force Assistance Brigade, 81st Troop Command and 219th Engineer Brigade.