Indiana Air Range Complex
The Indiana Air Range Complex (IARC) enables training and testing activities utilizing special use and managed airspace supporting both kinetic and non-kinetic air-to-ground operations. The IARC consists of Camp Atterbury, Muscatatuck Urban Training Center and Jefferson Range and the supporting associated special-use airspace.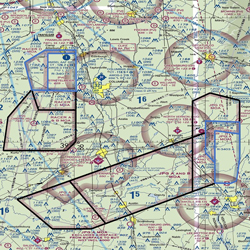 Click to enlarge
The IARC supports unmanned aerial systems (UAS), close-air support training and two Indiana Air National Guard Wings, co-located on civilian airports. Numerous supporting airfields in and around the IARC can accept up to 747/C-5-size aircraft. We have access to five runways, including the Columbus Municipal Airport, Fort Wayne International Airport , Himsel Army Airfield , North Vernon Airport , and the Terre Haute Regional Airport, Hulman Field (HUF).
Available are:
Air-to-ground and JTAC subject matter experts ( SMEs)
Air scored targets
Strafe targets
Rocket targets
Laser capabilities
Day and night operations for manned and unmanned activity
Restricted airspace for unmanned flight training and testing
Venues available to reserve:
Dedicated Unmanned Aircraft Operations Facilities
Operations and Maintenance Hangar
Admin and Operational Office Space
Classrooms
Contact Us
Himsel Air Field
---
Phone
812-526-1355
Fax
812-526-1775
DSN
569-2355
DSN Fax
569-2775
Email
ng.in.inarng.mesg.haaf-operations-and-airfield-support@army.mil
Hours
Office
Monday-Friday, 7 a.m. to 11 p.m.
Saturday and Sunday 7:30 to 4 p.m.
Other times as mission requires. Fuel available with 24 hour's notice. 72 hours advance notice if your mission requires 24-hour operations.
Tower
Monday-Sunday, 7 a.m. to 11 p.m.
Other times as mission requires, with notification of 5 business days
Department of Defense (DoD)
Visual Flight Rules (VFR)
supplement as "HIMSEL AAF"
Prior Permission Request (PPR)
Required For Arrivals
Himsel Tower or Range Control
126.2 VHF
Runway
approximately 36/18 4220' x 72'
Field Elevation
709' Mean Sea Level

May require approach over impact area. Ranges must be in check-fire.
Jefferson Range
---
Phone
812-689-7295
LVC Specialists
812-689-7295
317-247-3272
Fax
812-689-3519
DSN
873-5116
Hours
Tuesday through Friday days
1300-2100Z
Tuesday through Thursday nights
as scheduled
Saturday and Sunday
as scheduled
Other times are considered on a case-by-case basis.
Airspace Hours
R-3403A
available for scheduling daily from 0630 to 2400 local time.
R-3403B
available for scheduling daily from 0800 to 2300 local time.
JPG A/B/C/D MOAs
activated in conjunction with R-3403A/B and available for scheduling daily from 0800-2300 local time, other times by NOTAM.