Resilience Training Program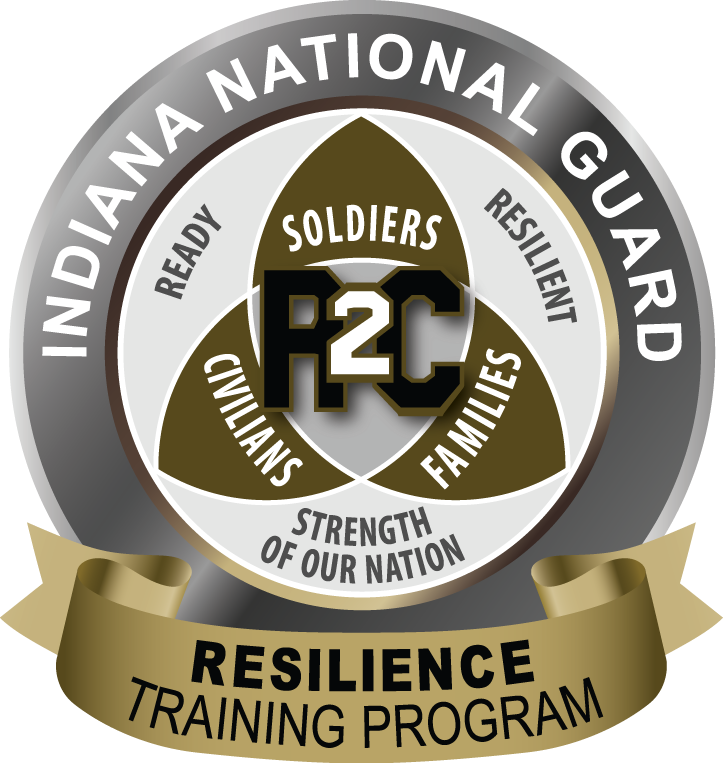 The Indiana National Guard's Resilience Training Program is dedicated to the physical, emotional and mental health of our service members and their dependents, and our federal civilian employees.
The core program focuses on helping personnel achieve and maintain a state of fitness, rather than addressing issues after they arise. At the heart of the process is Comprehensive Soldier and Family Fitness (CSF2), a structured, long term assessment and development program to build resilience and enhance performance.
Our vision is an Army of balanced, healthy, self-confident soldiers, families and Army civilians whose resilience and total fitness enables them to thrive in an era of high operational tempo and persistent conflict.
Indiana National Guard Requirements are as follows:
One MRT per company and one additional MRT for any detachments to the company
Additional RTA per company recommended
One MRT at each battalion level and higher highly recommended
E6 and above, and E5 with a memo containing an endorsement from the command/authority granting permission to attend the course
Below are the training materials and forms you will need:
Comprehensive Soldier and Family Fitness
The U.S. Army established comprehensive soldier fitness in 2008 to address the challenges many were facing due to multiple deployments. The goal was to provide preventative measures that would mitigate issues that would commonly arise during combat, and to give soldiers the life skills they would need to better cope with adversity and bounce back stronger from challenges. In 2012, the program expanded to include families of soldiers and federal civilian employees working for the U.S. Army.
Physical
Performing and excelling in physical activities that require aerobic fitness, endurance, strength, healthy body composition and flexibility derived through exercise, nutrition and training.
Social
Developing and maintaining trusted, valued relationships and friendships that are personally fulfilling and foster good communication including a comfortable exchange of ideas, views, and experiences.
Emotional
Approaching life's challenges in a positive, optimistic way by demonstrating self-control, stamina and good character with your choices and actions.
Family
Being part of a family unit that is safe, supportive and loving, and provides the resources needed for all members to live in a healthy and secure environment.
Spiritual
Strengthening a set of beliefs, principles or values that sustain a person beyond family, institutional, and societal sources of strength.
Financial
Understanding what financial peace of mind means for you can help you more clearly communicate with your spouse or partner, educate your children, and make choices that are in line with your financial goals.
INNG Resilience Resource Text Line
The State Resilience Team has launched the INNG Resilience Resource Text Line. This is an easy way to get direct contact information to resources available for current members of the Indiana National Guard and their families. There's no common access card (CAC) enablement required so anyone can easily get the contact information for state resources.
Text "INNG" 317-953-5715 to start.
Download Flyer