How a return to normal will impact some Indiana Medicaid members
Attention: FSSA is sending text messages to Medicaid members to alert them that they need to take action. Click here for more information and examples.
---
During the COVID-19 federal public health emergency, due to federal requirements, Indiana Medicaid members were able to keep their coverage without interruption.
The most recent federal spending bill ended Medicaid coverage protections, which means Indiana Medicaid is returning to normal operations.
Eligibility redetermination actions began in April 2023, with a 12-month plan to return to normal operations.
Many of these redeterminations are done automatically based on information the state has available. In some situations, the state of Indiana will need to ask the member for information about themselves and their family, such as current address, employment status and income, age and family size.
To be added to the stakeholder communication listserv, please click here.
What can members do?
Anyone who is currently in one of Indiana Medicaid's health coverage programs, including the Healthy Indiana Plan, Hoosier Healthwise, Hoosier Care Connect or traditional Medicaid, should take action now to help stay covered.
---
To help keep you covered, or help you find the right coverage for you and your family, the Indiana Family and Social Services Administration needs all Medicaid members to take these steps to ensure we have current information.
Go to FSSABenefits.IN.gov
Scroll down to the blue "Manage Your Benefits" section
Click on either "Sign in to my account" or "Create account"
Check that your contact information is accurate
Call 800-403-0864 if you need assistance
Then watch your mail! Be sure to respond with any information you're asked to provide
Benefit Portal tools:
Your coverage under the Indiana Medicaid program will never be cut off without you first having the opportunity to give the state new and updated information. But it is important that you respond to requests from FSSA and provide the needed information when you're contacted.
---
Planning documents and stakeholder meeting information
The next stakeholder meeting will be June 6, 2023, at 11 a.m. EDT. Details on how to join the virtual meeting are listed below:
Join Zoom Meeting by clicking here.
Meeting ID: 836 1373 2446
Passcode: 634746
Call in option 312-626-6799
Medicaid | End of Continuous Coverage Protections (April 2023)
Medicaid | End of Continuous Coverage Protections (March 2023)
---
Member handouts
---
Outreach Materials
You can help by communicating to Hoosiers in your organization's network about how the recent coverage protection changes will affect Indiana Medicaid members in April. Below are some resources to help you.
Posters
Postcards
Social media assets
Other content
---
Reports to CMS
Monthly reports
---
Sample Member Communications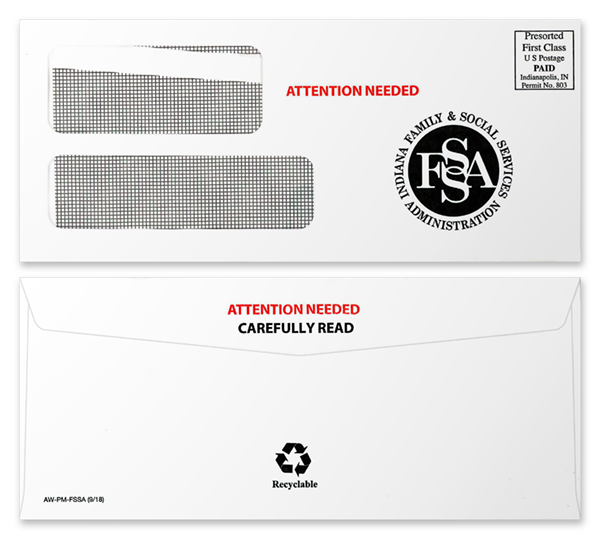 The image above is an example of the envelope that mailed letters will arrive in.
Sample packets sent to members the month of their redetermination
Members must complete packet and provide documentation to be considered for coverage
IED426 – Must Return Asset Mailer - English and Spanish examples

Sent to Aged/Blind/Disabled/Medicare Savings Program members
This mailer may go to individuals who are only on Medicaid due to the public health emergency, or to members who have continued to meet all eligibility criteria throughout the public health emergency

IED428 – Must Return Non-Asset Mailer - English and Spanish examples

Sent to Healthy Indiana Plan and Hoosier Healthwise members
This mailer may go to individuals who are only on Medicaid due to the public health emergency, or to members who have continued to meet all eligibility criteria throughout the public health emergency

IED470 – COVID 19 Mailer – English and Spanish examples

Sent to members if they are only on Medicaid due to the public health emergency and they are currently in a category that does not normally require annual redeterminations, but FSSA is unable to determine their continued eligibility in that category
Example categories would be pregnant individuals who are past their 12th postpartum month, Social Security Insurance recipients, and foster care/adoption assistance/former foster care members who have aged out of those programs
Text messages sent to Medicaid members
Members will be receiving the messages below from the number 468311. They will receive three texts, five minutes apart, on the topic listed below. Members may opt out of receiving the texts at any time by replying STOP.
Topic: You should have received a redetermination packet messages:
Message 1: Indiana Family & Social Services Administration has an update on your health coverage. Reply STOP at any time to stop receiving texts on this topic.
Message 2: You should have received a redetermination packet that must be completed to determine if you are eligible. If you did not receive a packet, call 800-403-0864.
Message 3: For more info on your health coverage, please click here: https://lnks.gd/2/22d6dTN
FSSA will not ask for any payment. Msg&Data rates may apply.
---

Frequently Asked Questions

Updated May 15, 2023: Questions and Answers click here.

---

Additional Resources

---

Agency portal

Agencies working with clients receiving public assistance through the Indiana Family and Social Services Administration's Division of Family Resources often need to know whether a client has been approved for benefits. Once authorized, registered agencies may access the Agency Portal 24/7 to check the case status for each of the individuals they support. For more information or to sign up, please click here.

---

Electronic notices

Medicaid members can sign up for electronic notices through the Benefits Portal, available by clicking here. Individuals who have a Benefits Portal account can opt to receive an email notification when an eligibility notice or request for information has been generated for their case and then access the notice in the Benefits Portal. Members can also upload documents for FSSA using their online account, even if they have not opted into electronic notices.

---

Individuals experiencing homelessness

Indiana residents may use a mailing address of their choosing if they have made arrangements with a friend, family member, or community organization to hold their mail until they can pick it up. Members who do not have an address where they can receive mail may use the address of their local Division of Family Resources office. DFR can work with the resident to help them determine which local office address to use. Notices and requests will be held for them for 30 days after the mail date and can be picked up during business hours (8 a.m. to 4:30 p.m., M-F). Please note: most requests for information will have a 13-day deadline for response, so it is important that they check for mail frequently.

---

What if I lose my coverage?

If you find out that you are no longer eligible for coverage through the Medicaid program, you could check to see if you qualify for coverage through the Federal Marketplace online at HealthCare.gov or by calling 800-318-2596. If you are over 65, you could look into coverage through the federal Medicare program at Medicare.gov or by calling 800-MEDICARE. Indiana's State Health Insurance Program can also help you with any questions you have about Medicare. Find them online at medicare.in.gov or call 800-452-4800.

There are also specially trained and certified professionals throughout Indiana who can help you find the right health coverage for you. These are called navigators and application organizations. You can find help in your area by clicking here.

In January 2023, CMS announced a Marketplace Special Enrollment Period for qualified individuals and their families who lose Medicaid or CHIP coverage due to the end of the continuous enrollment protections. This SEP, referred to as the "Unwinding SEP," will allow individuals and families in Marketplaces served by HealthCare.gov to enroll in Marketplace health insurance coverage outside of the annual open enrollment period. Click here for more information.

---

What if I lost my coverage but I have an emergency before I can get it started again?

Presumptive Eligibility (immediate coverage) is available through certain qualified providers. The applicant will answer questions such as citizenship, residency, family size and household income. The application is available 24 hours a day, seven days a week. To learn more about Presumptive Eligibility rules, click here, and to find an active qualified provider use the IHCP Provider Locator (select Yes for "Show only Presumptive Eligibility Qualified Providers?") by clicking here.