INDOT's number one priority during the winter is snow and ice removal. INDOT normally conducts winter operations between mid-November and mid-March each winter season.
INDOT Plowing Procedures
INDOT staff monitors multiple weather forecasts and deploys more than 1,000 snow plows, and up to 2,000 drivers, mechanics, clerks and managers before predicted winter weather to work alternating 12-hour shifts, 7 days per week, if needed, to keep more than 29,000 lane miles of interstate highways, U.S. routes and state roads in Indiana as safe as possible. INDOT winter operation goals are to:
Keep all roads and bridges open and passable
Operate as efficiently and effectively as possible
Maximize safety and mobility during winter weather conditions
INDOT snow and ice removal activities consist of:
Anti-icing: Under appropriate weather conditions, pre-treatment of highways with salt brine prior to a storm to help keep snow and ice from bonding to pavement
Plowing: The mechanical means of removing snow and ice from pavement
De-icing: The application of various chlorides to help break the bond or to keep the snow and ice pack in a condition that enables it to be plowed from the roadway.
During winter storms, INDOT plows every interstate highway, U.S. route and state road every 2 to 3 hours with salt assisting in melting between passes until there is exposed pavement on travel lanes. Occasionally during these times you may see INDOT's yellow plow trucks driving at higher speeds with their plow blades up as they leave the assigned route to reload on salt or fuel. Other cleanup activities, such as pushing back snow on shoulders and clearing storm drains, may occur during normal working hours.

Equipment may also be relocated to other regions as weather conditions dictate to assist with keeping roadways passable.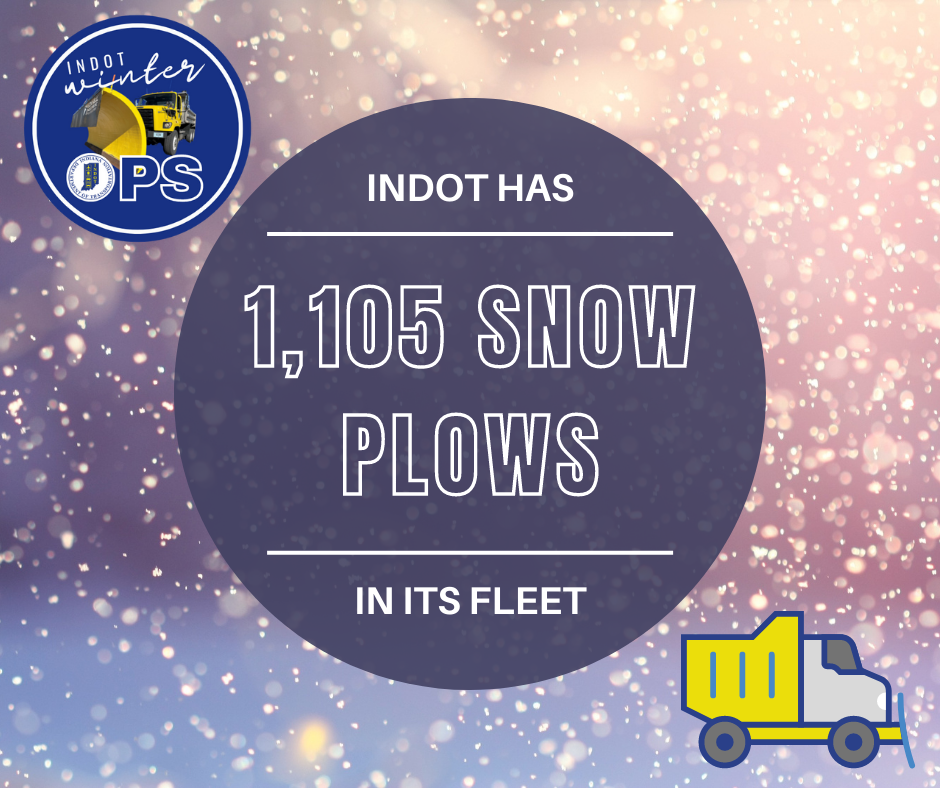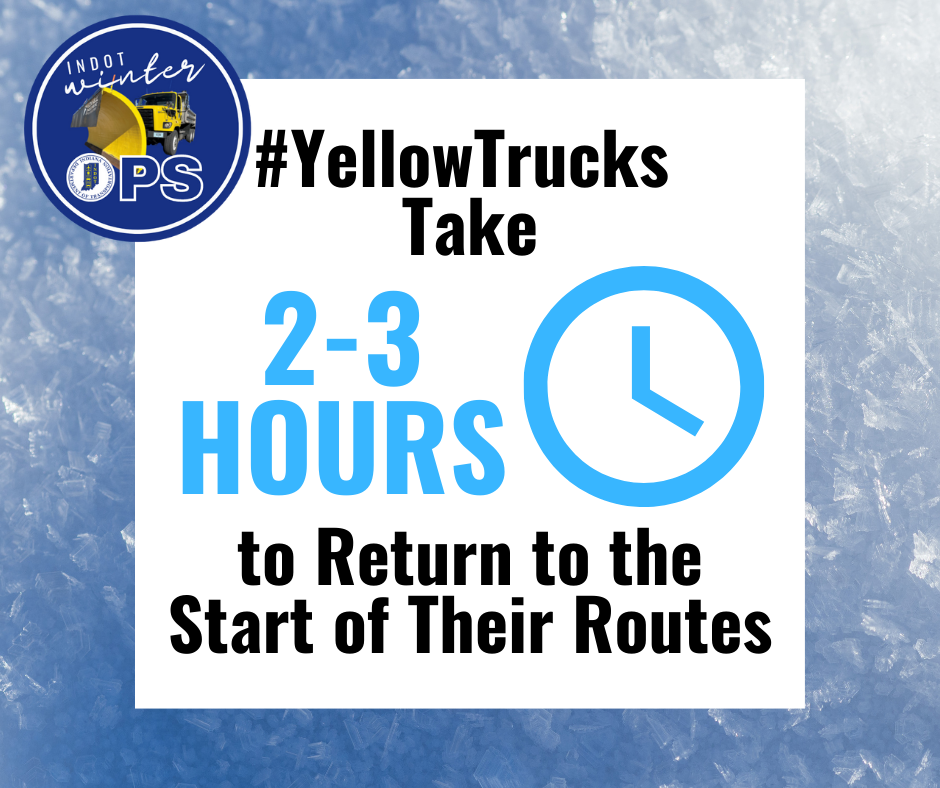 Plowing Safety
INDOT plow drivers on an assigned route may perform one or more practice runs before winter storms to acquaint themselves with the locations of drainage inlets, manholes, curbing and driveway entrances. Knowledge of roadway obstacles and special treatment areas – such as hills, curves, intersections, drift prone stretches and cold spots – ensures more efficient storm fighting and greater safety for motorists and INDOT drivers.

INDOT plow drivers exercise care to prevent damage to signs, mailboxes, or parked vehicles, however these accidents can, and do, occasionally happen. Damage is not typically caused by the plow blade itself, but the force of the snow being plowed.
Latest Information
For the latest information concerning road conditions visit Indiana Travel Conditions, or call 1-800-261-ROAD (7623) or 5-1-1 from your cell phone. All services are available 24 hours a day, 7 days a week.
Related Links