INDOT is challenging traditional ways of thinking in transportation planning, materials and programs in favor of inventive ideas and innovative solutions. Efficiencies gained through this process are reinvested into capital programs and operations, thereby benefiting every town, city, and county in the state.
Concrete Sealant Development
INDOT, Purdue University, the Indiana Soybean Alliance, and Irving Materials, Inc., teamed up to create and test a new biodegradable sealant for concrete. After six years of research, Purdue Agricultural Engineer Bernie Tao and Purdue Civil Engineer Jason Weiss developed a repellant that greatly reduces the ability of water and other compounds to penetrate concrete and cause cracking and chipping under winter freeze/thaw conditions. The sealant shows promise as an environmentally friendly alternative to similar products applied to concrete during road construction. Purdue's research might have reached a dead end were it not for the support of INDOT, the Indiana Soybean Alliance, and Irving Materials Inc., which helped cover research expenses, additional technical expertise, and access to public roads. Today, the new sealant is being tested on U.S. 231 in Lafayette and on a highly traveled street in Fishers, Ind. The project is one example of how INDOT teams up with universities, researchers, organizations, and companies to support research to improve and protect Indiana's roadways and transportation infrastructure.
Internally Cured Concrete
Purdue University and INDOT have teamed up to improve bridges in the state with a new "internally cured" high-performance concrete. The Joint Transportation Research Program (JTRP), a partnership between INDOT and Purdue, worked with Purdue's Pankow Materials Laboratory to create specifications for implementing the internally cured high-performance concrete. Laboratory testing indicates that internally cured high-performance concrete experiences substantially less cracking and concrete damage caused by deicing salt and, when properly designed, the service life of bridge decks can be greatly extended. Concrete is normally made by mixing Portland cement with water, sand and stone. In the curing or hardening process, water helps the concrete mixture gain strength by reacting with the cement. Traditionally, curing is promoted by adding water on top of the bridge deck surface. The new technology provides additional water pockets inside the concrete, which adds to strength and durability. The internal curing process also allows engineers to reduce the amount of Portland cement used in the concrete by replacing a portion of it with supplementary materials, such as silica fume, fly ash and limestone. These supplements reduce the waste stream, the need for raw materials and the carbon footprint of making concrete while improving its durability. Additional information about this innovation can be found at the JTRP website.
Alternative Fuel Vehicles
INDOT has further expanded its sizeable alternative fuel vehicle fleet. Launched in June 2011, INDOT's alternative fuel vehicle program now involves 634 vehicles, including 32 compressed natural gas (CNG) trucks which can run on CNG, gasoline or diesel fuel and 19 CNG-powered dump trucks. The program reflects INDOT's move to implement innovative, creative, and fiscally responsible solutions into its operations while transitioning its fleet to run on cleaner, less expensive alternative fuels. Fourteen CNG fueling stations are publicly available in Indiana. Six of the stations opened in 2013, which enables INDOT to expand the availability and use of CNG vehicles. INDOT's alternative fuel fleet reduced fuel costs by more than $1.17 million in FY 2013 and more than $2.75 million since the program's inception.
Recycling Efforts

Each year, INDOT road construction and reconstruction projects reuse a great deal of waste materials produced during resurfacing and reconstruction activities. Asphalt roof shingles, steel slag, reclaimed asphalt pavement and recycled concrete are among the items that can be reused to save resources and cut costs. For example, more than 95 percent of INDOT's hot mix asphalt includes some recycled asphalt pavement or recycled shingles, which keeps those materials out of Indiana landfills. INDOT also uses iron and steel slag – a waste product from iron and steel production – as an aggregate in hot mix asphalt for road construction and paving. The agency's recycling activities also involve the recovery and recycling of scrap steel and aluminum – including road signs and posts, guard railings, and miscellaneous items – which are sold to vendors at competitive prices. INDOT recycling activities also target special and universal wastes – including oil, tires, light bulbs, and batteries – discarded at department facilities and along Indiana roadways, INDOT in 2013 recycled more than 40,000 gallons of waste oil and more than 250 drums of vehicle- and equipment-related waste and approximately 40 drums of universal waste, including light bulbs, household batteries and waste ballasts. See Recycling & Waste Diversion for more information.
Reusing Shredded Tires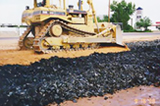 INDOT and the Indiana Department of Environmental Management teamed up to save more than $1 million by using an alternative lightweight fill made mostly of shredded tires in road projects around the state. In 2001, INDOT began using shredded tires mixed with sand, with the bulk of this material used between 2008 and 2010, saving about $1.2 million in material costs and using 1.1 million tires over that time. The tire shred-sand mixture is more easily compacted than other materials, saving energy and representing another source of cost savings. Eliminating the expense of tire disposal in landfills represents yet additional savings. Shredded tires have been used in nine construction projects statewide. INDOT in 2013 also launched a new program involving the sale of waste tire casings from its heavy duty truck fleet. The sale of tire casings generated nearly $19,000 in profits and saved almost $2,000 in tire disposal costs. Further information about reusing tires can be found at the Purdue University website and INDOT's Recycling & Waste Diversion webpage.
Wildflower Seeds
As part of its Hoosier Roadside Heritage program, INDOT produces its own wildflower and native grass seeds to spread along the shoulders of existing roadsides. The plants provide natural low-maintenance groundcover and wildlife habitat while beautifying Indiana roadways and reducing erosion. Indiana produces wildflower and grass seeds on INDOT property at seed farms in the Winamac, Frankfort and Madison sub-districts. In addition, the Indiana Department of Corrections is developing a fourth seed farm production field at the Putnamville Correctional Facility. DOC inmates perform maintenance and labor at all four sites at little or no cost to INDOT. At wholesale prices, INDOT estimates that the seed farms produce $200,000 in seeds annually. In addition, using native wildflowers and grasses reduces the need for roadway mowing by one-third – saving approximately $45 per acre in equipment, material and labor costs.
Contact Information
Derek J Weinberg
Innovation & Enhancement Performance Analyst
Indiana Department of Transportation
100 N. Senate Ave., IGCN755
Indianapolis, IN 46204
317-233-2543
dweinberg@indot.in.gov
Barry K. Partridge, Ph.D, P.E.
Director-Research & Development
1205 Montgomery Street
P.O. Box 2279
West Lafayette, IN 47906-2279
765-463-1521 x251
bpartridge@indot.in.gov