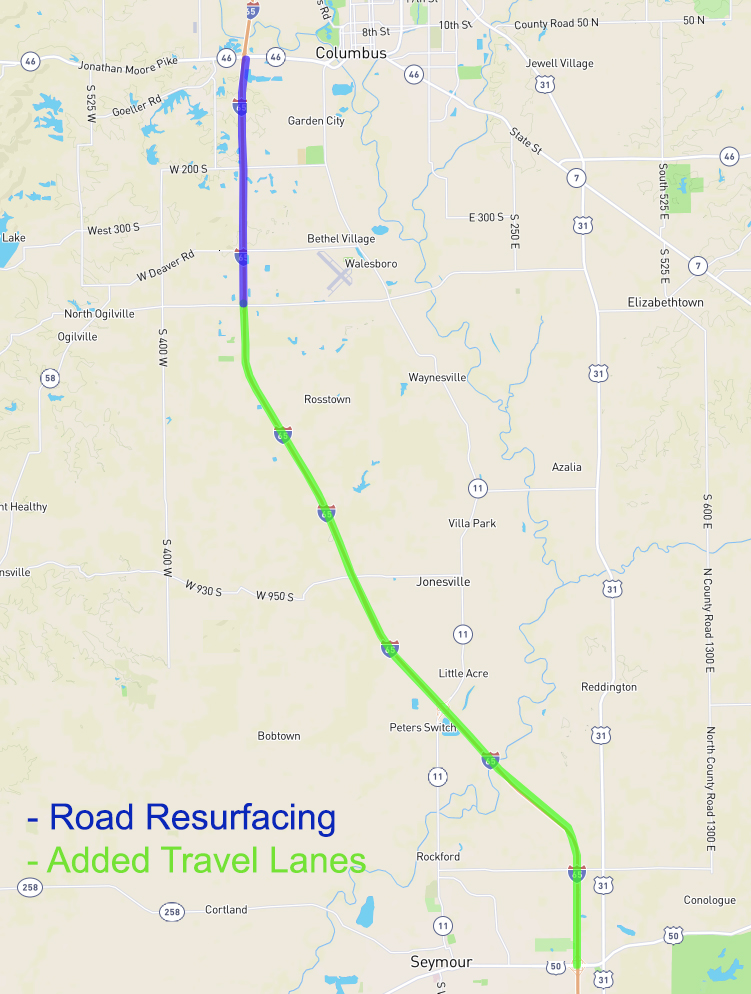 INDOT is rebuilding I-65 as a 6-lane roadway between U.S. Highway 50 and State Road 58 with repair/resurface of I-65 from S.R. 58 to the S.R. 46 exit at Columbus.
E&B Paving will add a travel lane between U.S 50 and S.R. 58 in both directions. Crews will shift traffic onto the right shoulder and build the new travel lane in the median area. I-65 from S.R. 58 to S.R. 46 will be resurfaced.
Traffic signals have been installed at the S.R. 58 exit and a caution light will be replaced with a traffic signal at the U.S. 31/S.R. 250 intersection.
E&B Paving was awarded a $143 million contract in spring 2018 and construction is expected to be completed in 2020.
Project Timeline
2018 - North Section (mile markers 56.0 to 67.5): work includes added travel lanes from 56.0 to 64.0 mm, resurfacing from 64.0 to 67.5 mm, bridge widening at 61.5 mm and initial work at the White River.
2019 - South Section (starting at U.S. 50 exit): full depth reconstruction with added travel lanes
2020 - Middle Section
Project News
Stay Informed
INDOT Customer Service
Phone: 855-INDOT4U (463-6848)
Email: secommunications@indot.IN.gov
Facebook: INDOT Southeast
Twitter: @INDOTSoutheast