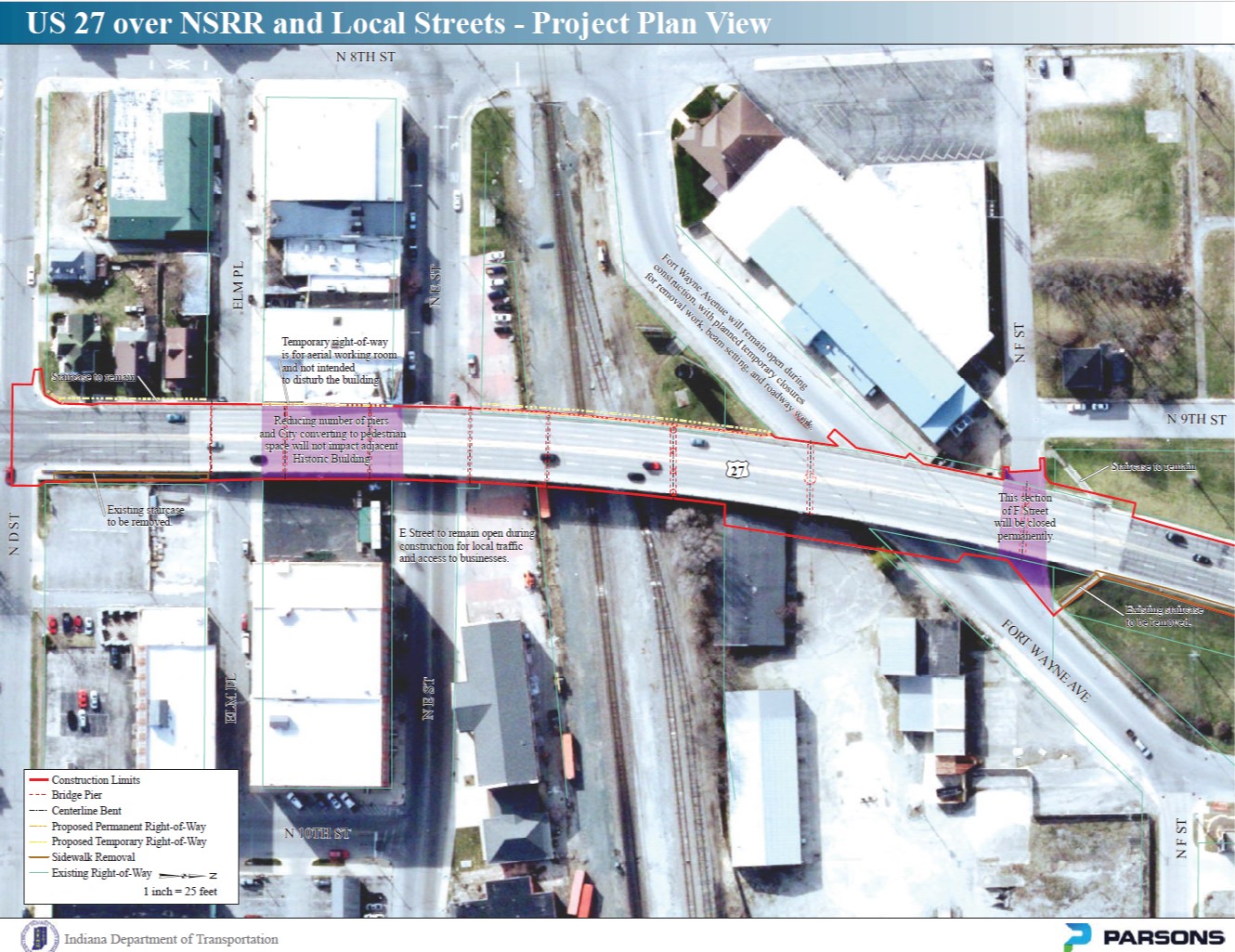 The Indiana Department of Transportation (INDOT) and the Federal Highway Administration (FHWA) are planning to proceed with a bridge replacement project on US 27 over Norfolk Southern Railroad (NSRR) and local streets in the City of Richmond in Wayne County, Indiana. US 27 serves as the main north-south route for the area. The existing bridge is approximately 0.3 mile north of westbound US 40.
The needs for this project are due to the deteriorated condition of the current structure. The existing 17-span noncontinuous bridge layout places unprotected piers in the middle of busy streets, and there are areas of collision damage. The pedestrian facilities on the bridge are substandard and do not meet Americans with Disabilities Act (ADA) requirements. Additionally, there are existing concrete staircases on all four quadrants of the bridge that are substandard and deteriorating.
The project will replace the existing structure with a 7-span bridge on the same alignment, with minimal anticipated grade change. The segment of North F Street located at the north bridge abutment would be permanently closed to traffic and filled. The existing sidewalks on the bridge would be replaced with an ADA-compliant pedestrian facility on the west side of the bridge. The eastern sidewalk and staircases would be removed, while the western staircase would remain. Guardrail would be replaced as-needed.
Projected Schedule:
April 2023: Work and closures begin.
Fall 2024: US 27 and Fort Wayne Avenue expected to reopen to traffic.
Summer 2025: Project completion.
Long-Term Closures:
April 2023 – Fall 2024:

US 27 from North D Street to North G Street
Fort Wayne Avenue from North 8th Street to North F Street (north of the railroad tracks)

Access will be maintained for local businesses.
Temporary Closures:
Temporary Closures Spring/Summer 2023 and Spring 2024 through demolition and bridge steel erection:

North E Street from North 8th Street to North 10th Street
Elm Place from North 8th Street to North 10th Street

Spring/Summer 2023: 2-day closure of North F Street at North 8th Street during sanitary sewer work on North F Street
Spring/Summer 2023: 2-day closure of North 9th Street at North F Street during sanitary sewer work on North F Street
March 2023 | Public Information Meeting Documents
August 2020 | Public Information Meeting Documents:
Project Documents:
Environmental Documentation