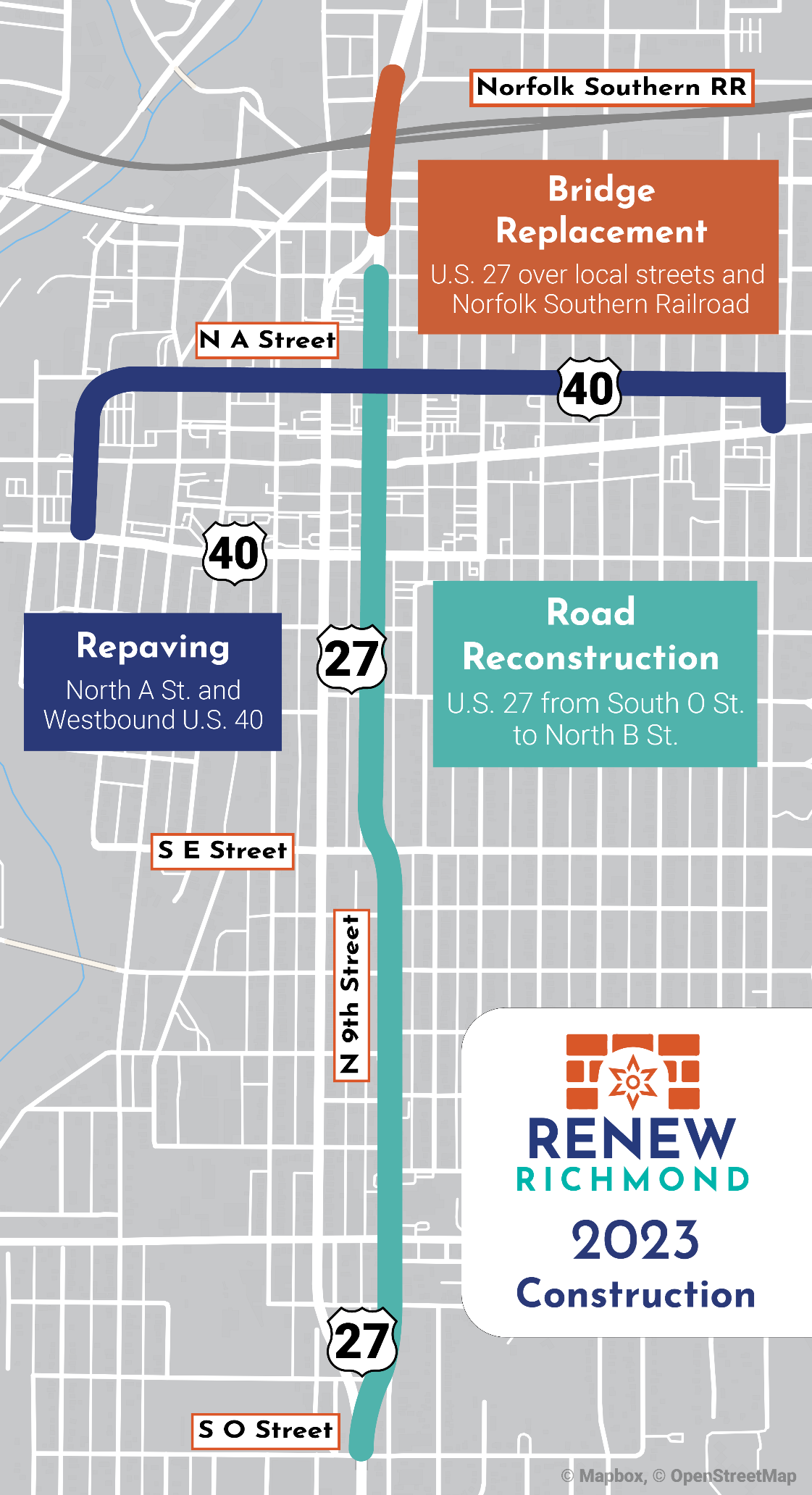 Renew Richmond is your one stop to learn more about Indiana Department of Transportation (INDOT) road projects underway or planned for Wayne County.
Current and upcoming projects on U.S. 40 and U.S. 27 in Richmond will improve roads and bridges and include pavement and bridge maintenance.
Construction on the U.S. 27 bridge replacement project started in spring 2023 and continues through summer 2025. Learn more below.
Pavement improvements for U.S. 40/North A Street started in spring 2023 and are expected to be complete in fall 2023. Learn more below.
Expect ongoing work to rebuild more than a mile of U.S. 27 between South O Street and North B Street to be completed by mid-2023.
Anticipated construction schedules are subject to change based on contractor and material availability.
U.S. 27 Bridge Replacement
The U.S. 27 bridge is being replaced in Richmond. The project includes the long-term closure of US 27 from North D Street to North G Street in April 2023.Fort Wayne Avenue from North 8th Street to North F Street (north of the railroad tracks) is expected to close at the same time. Access will be maintained for local businesses.
The long-term closures are expected to be in place through Fall 2024 when both US 27 and Fort Wayne Avenue are expected to reopen to traffic. Construction is expected to be completed in summer 2025.
The project will replace the deteriorating US 27 bridge over Norfolk Southern Railroad (NSRR) and local streets in Richmond. The improvements will address current safety issues with pier columns in busy downtown streets, and pedestrian facilities will be improved to be compliant with the American with Disabilities Act (ADA). More information about the project can be found here.

March 2023 | Public Information Meeting Documents
U.S. 40/North A Street Resurfacing
Roadwork along U.S. 40 includes resurfacing the westbound lanes, known locally as North A Street. The improvements are being made between 16th Street and 3rd Street. In addition to rehabilitating and resurfacing pavement, improvements include ADA-compliant curb ramps. At least one lane of traffic is being maintained for through traffic along westbound U.S. 40 during the work. Learn more
here
.
US 40 Closure Near Centerville
Crews have closed U.S. 40 in both directions between Mineral Springs Rd. and McMinn Rd. This closure will allow crews to complete a bridge demolition and reconstruction. This work is expected to be complete late November, weather depending. Learn more here.
Revive I-70
Revive I-70 will improve I-70 in Wayne County from west of Cambridge City to the Indiana/Ohio state line. The project is expected to reduce congestion, improve traffic flow and improve safety. Visit Revive I-70 to learn more.
Latest News
March 6, 2023 - Public Meeting for US 27 Bridge Replacement - A public meeting is planned for Monday, March 20 to provide more details about the U.S. 27 bridge replacement project. Read the full release.
Jan. 31, 2023 - Resurfacing Contract Awarded in Wayne County - Pavement improvements are on the way for U.S. 40/North A. Street. The Indiana Department of Transportation (INDOT) has awarded a $3,074,525 contract to Milestone Contractors LP for an asphalt resurfacing project on westbound U.S. 40 (North A Street). Read the full release.
Project Coordination
INDOT is completing hundreds of millions of dollars in infrastructure improvements in Wayne County. It's part of Governor Eric Holcomb's Next Level Roads Plan, which is investing an estimated $60 billion in roads and bridges statewide over 20 years.
INDOT coordinates its construction program with city and county projects to maximize the service life and good condition of its pavement and bridges. INDOT also works to minimize traffic delays and detours while keeping projects moving forward.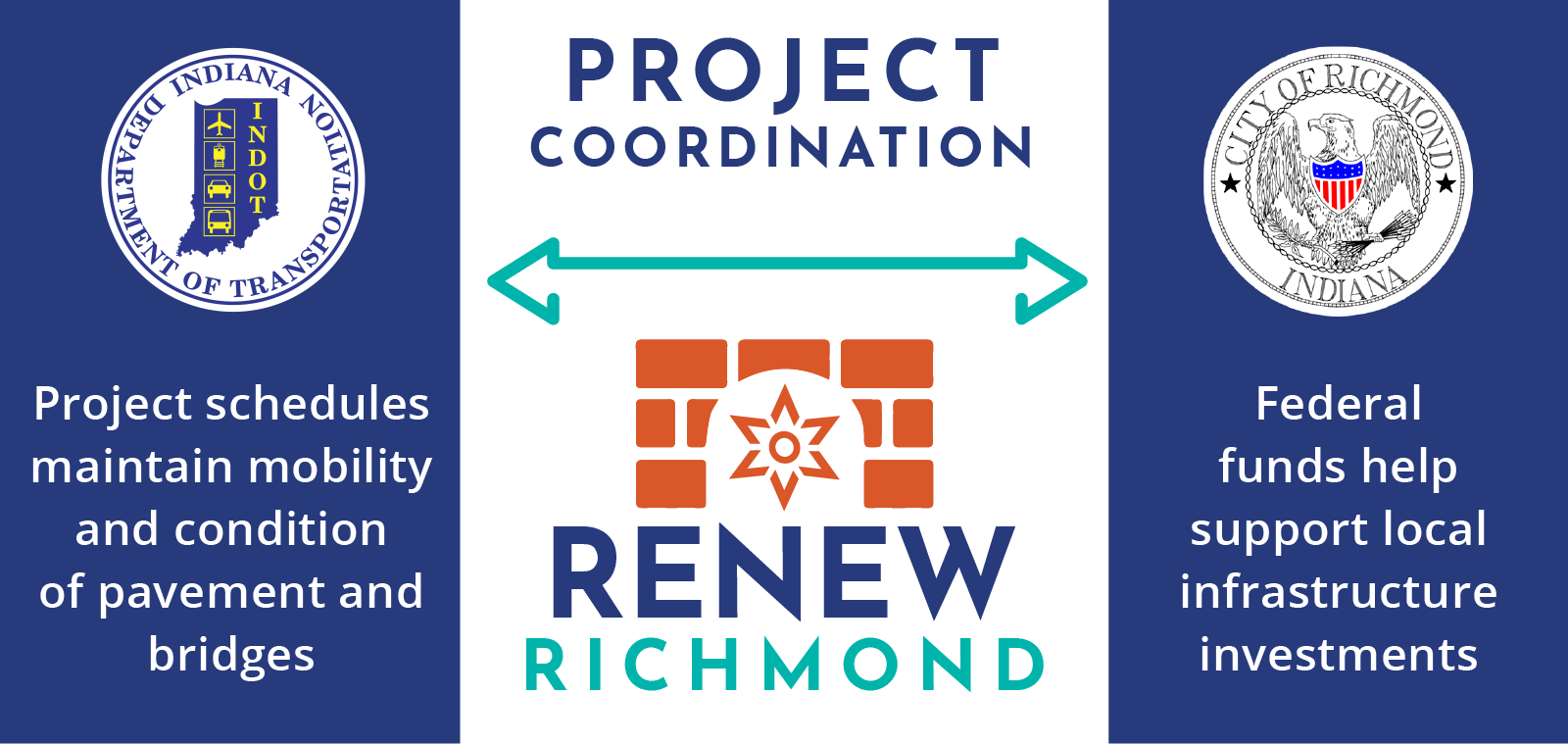 Stay in Touch
Frequently Asked Questions