The Aerial Survey Section is responsible for acquiring aerial imagery and producing digital spatial information products using photogrammetric processes for use in transportation planning, design, construction and maintenance. In addition, the section provides coordination of all INDOT aerial photographic and photogrammetric operations; establishes and maintains standards and procedures for photogrammetric products created by and for INDOT; and develops, administers, evaluates and procures advances in new and emerging technologies in photogrammetric equipment and systems.
Photogrammetry is the art, science and technology of obtaining reliable information about physical surface features by recording, measuring and interpreting aerial photographic imagery. Photogrammetry uses precision aerial cameras to photograph the desired project areas.
The quality of photographs depends on a number of factors. Factors are classified as those related to the quality of the camera and lens, and the general environmental conditions such as cloud cover, foliage, sun angle, haze or smoke. There are few limitations on using aerial surveys for engineering and related work provided the aerial images are obtained during a suitable flying season, at the appropriate altitude, and proper photogrammetric methods are used to collect the data.
Below are brief explanations and descriptions of the products and services offered by the Aerial Survey Section.
Aerial Photography Services
Preliminary Engineering/Planning Photography
This type of photography is often referred to as "Small Scale," which indicates that the ground features in this type of photography are at a smaller, less detailed size. 1"=1000' is the most commonly used photo scale for this type of aerial photography. This imaging is generally used to provide an overview of a proposed project area to aid in planning.

Design Scale Photography
This type of photography is often referred to as "Large Scale," which indicates that the ground features in this type of photography are at a larger, more detailed size. 1"=200' is the only acceptable photo scale for this type of aerial photography. This imaging is used primarily to produce design grade mapping products.

Oblique Photography
These are side-on, angled photos that are captured at low altitude with our High Resolution hand held Digital Camera. These photos are most commonly used for scenic, panoramic or construction progress views. These images provide an increase coverage area within one photograph, however are not used for making accurate quantitative measurements.

Digital Imaging
This is the process in which the developed aerial film is used to produce digital images. These files are created with the use of a photogrammetric scanner that meets all geometric and radiometric requirements.

All of the photography scales and styles are used for general views of an area, planning/preliminary design, public hearings, legal court cases, hydrology studies, material borrow pit quantities, environmental issues and construction progress. The only Scale that is acceptable for stereo compilation is the Design Scale Photography.
Photogrammetric Processes
Aerial Triangulation (AT)
Aerial triangulation is a mathematical process used to determine the easting, northing and vertical coordinates of an infinite number of points. This process's primary function is to extend and densify the provided ground control in the aerial photo pairs. This process greatly reduces the number of points that must be located during the ground survey and provides a means of verifying survey and stereo compilation accuracy, thus reducing project costs across the board.

Digital Stereo Compilation
This is the process that recreates the internal geometry of the aerial camera to produce a three-dimensional (3D) model of the terrain that is viewed on a high resolution computer monitor. The digital stereo compilation workstations support the real-time graphics to allow the CAD features to be viewed graphically overlaid in the 3D environment. After proper orientation, a digital terrain model (DTM) and topographic maps (contours) can be produced.

Digital Terrain Models
This is a digital representation of the ground surface topography or terrain in a pre-defined area. These terrain models are created by digitizing specific terrain features that depict the changes in the earth's surface. These terrain models are often used in the production of topographic contour maps, to determine earthwork quantities, or to produce orthorectification photography.

Cartographic Editing
This is the process in which the photogrammetry staff will perform the final QA/QC for all of the stereo compilation data. During this process all of the Supplemental Ground Survey data will also be added and checked for horizontal and vertical accuracies in relation to the three-dimension terrain view. In addition to checking the geographic accuracies the photogrammetry staff will also review the data to check for missing data, digitizing correctness and for proper symbology placement.
Aerial Survey Links
Photogrammetric Mapping Specifications & Services Manual Version 1 - April 1, 2011 ARCHIVED
Aerial Survey Oblique Samples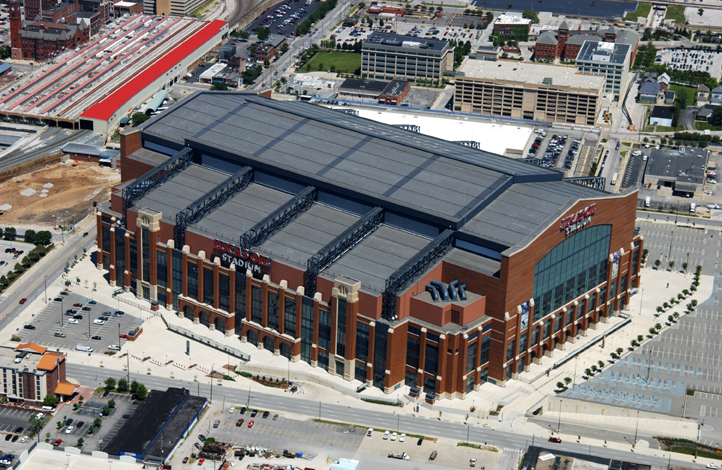 Lucus Oil Stadium 2010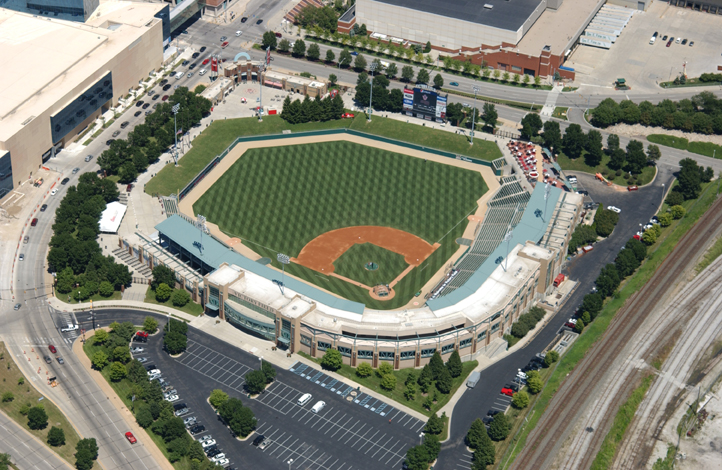 Victory Field 2010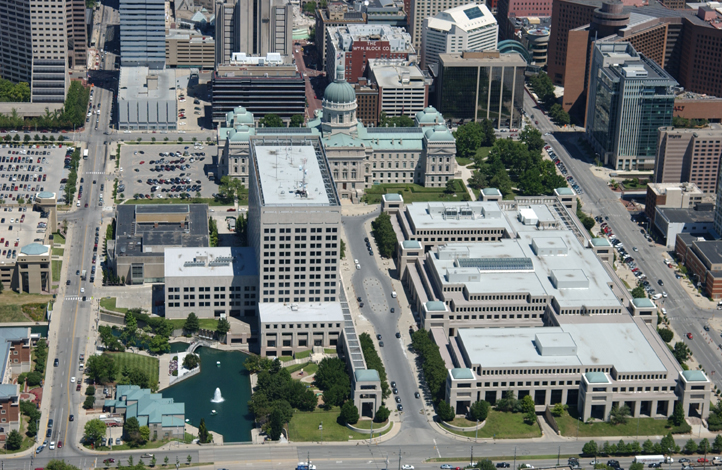 Indiana State Government Center 2010
Contact Information
James D. "Chip" Campbell II, CP #R1443
Aerial Survey Coordinator/Lead Photogrammetrist-Aerial Survey
Indiana Department of Transportation
120 South Shortridge Rd.
Indianapolis, IN 46219
317-522-9732
jcampbell2@indot.in.gov
Mark Shambaugh
Imaging Technician-Aerial Survey
Indiana Department of Transportation
120 S. Shortridge Rd.
Indianapolis, IN 46219
317-522-9733
mshambaugh@indot.in.gov
Jonathan Schiemann
Lead Stereo Compiler-Aerial Survey
Indiana Department of Transportation
120 S. Shortridge Rd.
Indianapolis, IN 46219
317-522-9734
jschiemann@indot.in.gov
Jennifer Waymon
Stereo Compiler-Aerial Survey
Indiana Department of Transportation
120 S. Shortridge Rd.
Indianapolis, IN 46219
317-522-9735
jwaymon@indot.in.gov