Main Content
The Sagamore Parkway eastbound Bridge over the Wabash River was awarded to Superior Construction for $13.39 million. Construction is underway and the project has a completion date of June 2019. It is anticipated that the bridge will be open for traffic in the summer of 2018.
The project involves replacing the existing structure with a new, approximately 938-foot long, eight span bridge on the existing alignment. The new superstructure would be a concrete bulb tee design. The new bridge would provide two 12-foot travel lanes, standard shoulders (6-foot left and 11-foot right), and a multi-use trail on the bridge deck with accommodation for connections to a future multi-use trail on the south side of the road.
The maintenance of traffic during construction is for one lane in each direction on the westbound bridge.
U.S. 52 Eastbound Bridge Section
Two 12' lanes with a 6' inside shoulders and 11' outside shoulder on bridge
A 10' multiuse path will be constructed on the bridge deck for connection to a future multiuse trail on the south side of U.S. 52

​
Decorative Railing
Proposed steel railing will provide an open feel to the multiuse path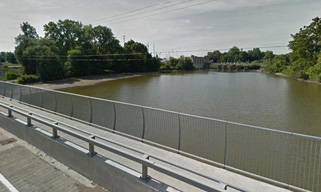 ​