Article
Section
North Manchester Covered Bridge
INDOT is rehabilitating the historic North Manchester Covered Bridge on South Mill Street over the Eel River in Wabash County during the 2013 construction season. The $724,000 project will replace the roof,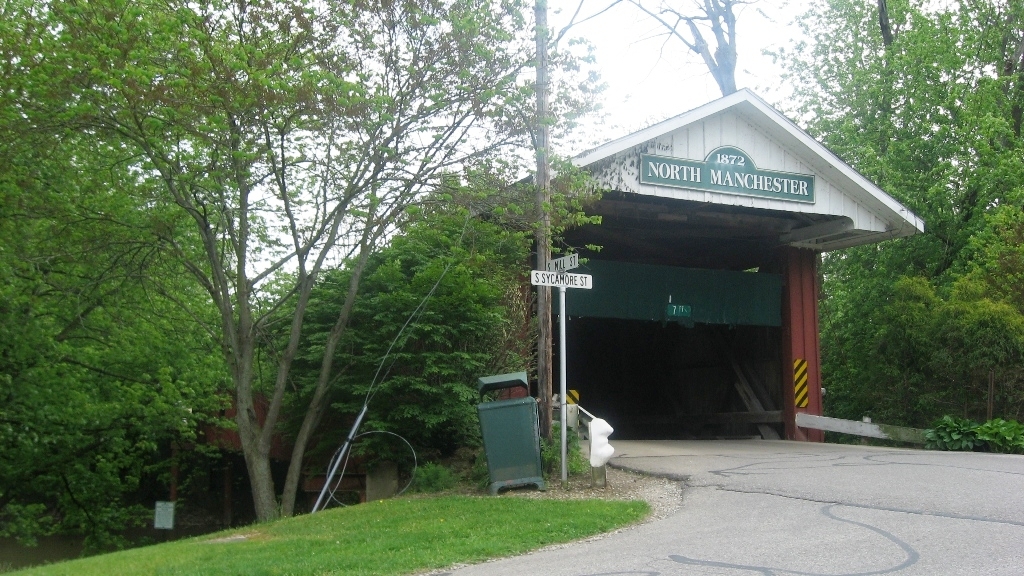 siding, floor beams and other deteriorated timber pieces, and install lighting to keep this bridge in good repair and enable it to continue to carry vehicular traffic.
Workers for project contractor CLR, Inc., based in Vincennes, Ind., removed siding from the bridge in June. The bridge was closed on July 8 and workers removed the roof, rafters, sheathing and floor boards to accommodate truss repairs. A temporary support system will be installed in August to support the timber trusses during repairs. The contractor has saved and will sort through the removed rafters, sheathing, siding and floor boards to evaluate what materials may be suitable for reuse.
This historic single-span covered bridge was built in 1872 by the Smith Bridge Company. It is on the National Register of Historic Places, and is part of the National Historic Covered Bridge Preservation (NHCBP) Program. At 18 feet wide with a 12-foot deck and pedestrian walkway, it is the widest covered bridge currently in use in Indiana. The bridge is 174 feet long, which includes 12 foot overhangs at each end. It is 12 feet high, with a vertical clearance of 7 feet.
The project was awarded to CLR, based on the low bid of $724,009.Of this amount, $579,207 was provided by the Federal Highway Administration. Wabash County; the local public agency, provided $144,802 as a 20 percent local match to the federal funds. INDOT provides oversight on the use of the funds.

Design and inspection of the project are provided by United Consulting on behalf of Wabash County.
Photos
For More Information
More information about the North Manchaster Covered Bridge project is available on INDOT's Northeast Facebook and Twitter pages.
Contact Information
Customer Service
Indiana Department of Transportation-Fort Wayne District
5333 Hatfield Road
Fort Wayne, IN 46808
Toll Free: 1-866-227-3555
Fax: 260-471-1039
Email: NEinformation@indot.in.gov