Article
Section
Jackson County #195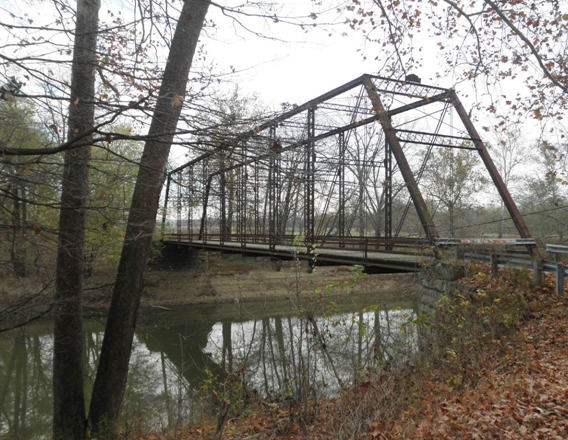 Location:
County
Road
Over
Number
Other Location Information
Jackson
CR 550 W

Muscatatuck River

Jackson County #195
(NBI No. 3600130)

Approximately 4.0 miles south east of the town of Medora
Statistics:
Owner
Length
Width
Year Built
Type

Jackson County Commissioners

181 feet

15.8 ft
c. 1899

Single-span steel Pratt Thru-Truss

Builder:
Lafayette Bridge Company
Status:
Pending
Comments:

Substantial section loss in many of the truss members and rust throughout. The bridge is listed in the National Register of Historic Places and has been categorized as Non-Select per the Programmatic Agreement Regarding Management and Preservation of Indiana's Historic Bridges. The status of this bridge is currently "pending," which means that its future is currently unknown, as the Section 106 historic review process is on-going. Depending on the outcome of Section 106 consultation, interested parties may be able to utilize the bridge. Jackson County is now accepting proposals for the rehabilitation or reuse, or the storage and future reuse of the bridge. Proposals will also be accepted for the salvage of elements that may be stored for future repair of similar historic bridges.
Contact:
Name
E-mail
Address
Phone
Shannon Hill
Bernardin Lochmueller and Associates, Inc.
mailto:SHill@blainc.com
3502 Woodview Trace, Suite 150
Indianapolis, IN 46268
317-222-3880