Main Content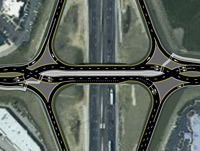 The I-69 and State Road 1 (Dupont Road) interchange was opened to traffic in October 2014. The interchange was modified from a traditional diamond interchange to a Diverging Diamond Interchange (DDI) at a cost of $3.5 million.

As a DDI, Dupont Road traffic shifts to the left side of the roadway as it crosses the bridge between the I-69 northbound and southbound ramps. Once on the left side of Dupont Road, vehicles turn left onto the interchange ramps without stopping and without conflicting with through traffic. This DDI was the first such interchange built in the state of Indiana.

The I-69 and State Road 1 DDI was named Civil Engineering Project of the Year by the American Society of Civil Engineers (ASCE) Indiana section. According to ASCE Indiana, the award is presented for the most outstanding or unique project built in Indiana and completed during the eligible year.
The interchange also received an Honor Award for Engineering Excellence from the American Council of Engineering Companies of Indiana. The award recognizes outstanding engineering achievements that demonstrate a high degree of merit and ingenuity.
Video
Maps