A watershed plan is a strategy and a work plan for achieving water resource goals that provides assessment and management information for a geographically defined watershed. It includes the analyses, actions, participants, and resources related to development and implementation of the plan. The watershed planning process uses a series of cooperative, iterative steps to characterize existing conditions, identify and prioritize problems, define management objectives, and develop and implement protection or remediation strategies as necessary.
The main components (or chapters) in a watershed plan include:
Public Concerns
Watershed Inventory - includes water quality, physical, and social data
Problem Identification
Identify Sources of Problems
Selection of Critical Areas
Set Goals and Objectives
Measure Success
The primary purpose of a watershed management plan is to guide watershed coordinators, resource managers, policy makers, and community organizations to restore and protect the quality of lakes, rivers, streams, and wetlands in a given watershed. The plan is intended to be a practical tool with specific recommendations on practices to improve and sustain water quality. These are also "living documents", meaning that as conditions change over time in a watershed, the plan must be reexamined and revised to reflect goals that have been achieved or not met.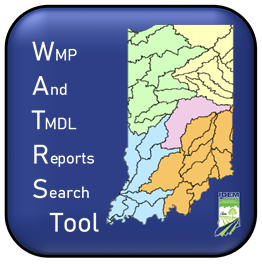 WMP and TMDL Reports Search Tool
On this page is a list of the most current watershed management plans (WMPs) that have been approved by IDEM's Nonpoint Source Program. These plans were written by locally-led watershed groups and serve as the first step to improving water quality in a number of Indiana's rivers, lakes, and streams. Use the WMP and TMDL Reports Search (WATRS) Tool to find watershed planning efforts in your area. In some cases, new or updated plans may replace historical plans. Contact the Nonpoint Source Program for a full list of watershed management plans that have been completed to date.
Watershed Management Plans
Plans marked with an asterisk (*) did not meet IDEM's checklist requirements for approval due to unexpected circumstances, but still may provide valuable information in watershed planning efforts.
Region 1 - Northwest
Little Calumet (04040001)

Middle Wabash-Deer (05120105)

Tippecanoe (05120106)

Wildcat (05120107)

Middle Wabash-Little Vermillion (05120108)

Sugar (05120110)

Kankakee (07120001)

Iroquois (070120002)

Chicago (07120003)

Region 2 - Northeast
St. Joseph (MI) (04050001)

St. Joseph (OH) (04100003)

St. Marys (04100003)

Maumee (04100005)

Auglaize (04100007)

Upper Wabash (05120101)

Salamonie (05120102)

Mississinewa (05120103)

Eel (Wabash River) (05120104)

Region 3 - Southwest
Middle Wabash-Busseron (05120111)

Lower Wabash (05120113)

Lower White (05120202)

Eel (West Fork White River) (05120203)

Patoka (05120209)

Lower Ohio-Little Pigeon (05140201)

Highland-Pigeon (05140202)

Region 4 - Southeast
Whitewater (05080003)

Middle Ohio-Laughery (05090203)

Driftwood (05120204)

Flatrock-Haw (05120205)

Upper East Fork White (05120206)

Muscatatuck (05120207)

Lower East Fork White (05120208)

Silver-Little Kentucky (05140101)

Blue-Sinking (05140104)

Region 5 - Central
Upper White (05120201)