Service Provider Certifications, Forms and Information
Website Changes: Can't Find What You're Looking For?
EMS certifications and training information has been consolidated into fewer pages and reorganized into different sections as part of a larger effort to better organize the IDHS website and help users find information more easily. Here's what changed: ...
Some information has been reorganized into two kinds of sections:
Collapsible (drop-down) sections: Open and close when selected.
Tabbed sections: Allow you to select different tab headings to find different types of information.
For example, on the Individual Certifications page, application forms for different EMS positions are located in the Applications and Curriculum collapsible (drop-down) section. Once opened, you can choose which type of application form you want by selecting the different tabbed headings (EMR, EMT, etc.). The current selection is shown in white, while the other options are shown with blue headings.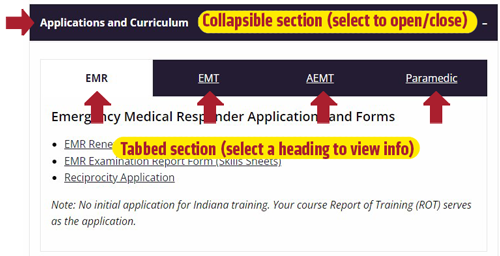 If you have questions regarding rules, equipment or standards while filling out the applications, please refer to the Title 836 rules found in the EMS Rules and Laws section (within the Resources and Data section) on the Emergency Medical Services page.
ALS and BLS Provider Forms
Applications
Medical Director Approval Forms
Information
Applications
Medical Director Approval Forms
Applications
Medical Director Approval Forms
Information
Miscellaneous Provider Forms