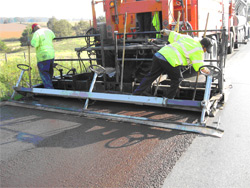 INDOT works hard to keep the pavement of our highways lasting for many years, perhaps even past a typical life cycle. A lane mile of highway can cost more than $12 million to build – a huge investment. Just as you protect an asset like a vehicle or home with routine maintenance, INDOT protects its investments with pavement preservation.
Pavement preservation techniques include chip sealing or crack sealing the road surface. Benefits of pavement preservation include improved safety, smoother ride, fewer construction delays, better appearance, greater value and lower taxpayer cost.
In 2010, INDOT developed comprehensive guidelines for pavement preservation for the purpose of improving INDOT's pavement preservation practices. The goal of this Pavement Preservation initiative is to formalize preventive maintenance activities and determine the optimum balance between preventive maintenance expenditures and capital expenditures.
Most INDOT pavement preservation work is performed by INDOT employees. In Fiscal Year 2017, INDOT completed more than 6,600 lane miles of chip sealing and crack sealing at a cost of more than $16.4 million.
INDOT's pavement preservation initiative optimizes construction dollars and keeps Indiana's pavement in better condition. Just $1 spent on pavement preservation can save $6 to $14 on future repairs. In FY 2017, INDOT's in-house pavement preservation efforts generated more than 24,000 additional lane mile years. INDOT is planning a comparable amount of in-house chip sealing and crack sealing preservation work in FY 2018.
Related Links
INDOT Treatment Guidelines for Pavement Preservation

Instructions for downloading iSeal:
1. Click on link to download Adobe Air https://get.adobe.com/air/
2. Click on file to download iSeal
iseal version 1.0.1