Emergency Management and Preparedness Division

About the Emergency Management and Preparedness Division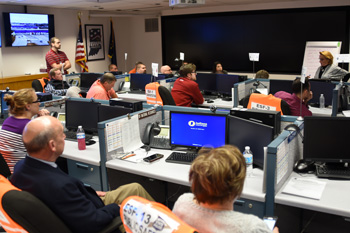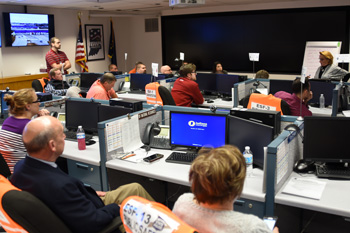 The mission of the Emergency Management and Preparedness Division is to provide "the support, tools and resources to ensure that the State of Indiana can build, sustain, and improve our capability to prepare for, protect against, respond to, recover from, and mitigate all hazards." A primary role for the Indiana Department of Homeland Security (IDHS) is to support first responders and communities as they prepare for and respond to a disaster or large-scale event. IDHS operates a state-of-the-art Emergency Operations Center (EOC) to provide a communication hub for sharing information and effectively orchestrating resource logistics when a disaster overwhelms local emergency management resources or capabilities. The Emergency Management and Preparedness Division coordinates the state's response to communities that need help responding to disaster or implementing plans and processes to mitigate natural disasters.
By working with communities on mitigation projects that protect citizens from the natural or man-made disasters relevant to Indiana, the division represents the state's commitment to helping Hoosiers and other states when disaster strikes. This could include equipment, personnel, incident management and other resources to help citizens recover from incidents. The division also manages damage assessments and serves as the liaison to the Federal Emergency Management Agency (FEMA) when distributing individual assistance and public assistance to damaged communities.
News/Updates
Recent News
Residents of Vanderburgh County affected by the house explosion on August 10 can report damage online through Indiana 211. Recent storm damage reports are also being accepted from residents of Daviess, Knox and Grant counties.
The 2022 BRIC pre-application period is now open. Pre-applications are due to mitigation@dhs.in.gov by 4 p.m. EDT on September 16. The pre-application is required to receive consideration for moving forward with a BRIC grant application. It is designed to identify mitigation projects sufficiently developed by a community to be competitive in the nationwide BRIC application evaluation process. Learn more about the BRIC program
The U.S. Small Business Administration declared a disaster for several Indiana counties due to the June 13–14, 2022, derecho windstorm. Disaster loans are now available in Adams, Allen, DeKalb, Huntington, Noble, Wells and Whitley counties.
Recent Updates
Find emergency management training and resources.
Look up contact information for county EMAs and IDHS regional staff.
Find or post job vacancies for local emergency management or other first responder agencies.
Sections and Services