Lesson 6: Indiana Transparency Portal
The Data Proficiency Program training lessons will arrive monthly in your inbox from mph@subscriptions.in.gov. If you are not receiving the lessons when they are posted via your state email account, you can subscribe to our mailing list to receive the monthly lessons.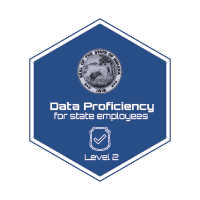 This lesson is the first lesson of Level 2 of the Data Proficiency Program. You're now working towards your Level 2 - Blue Badge.
If you've not completed Level 1 and earned your badge, take a quiz and earn your Level 1 - Green Badge!
---
Welcome to Lesson Six of the Data Proficiency Program. In this lesson, we're going to take a break from the Study Hall Data Literacy series and spend one lesson on something a little closer to home. In Lesson Three, you learned about telling stories with data visualizations. One takeaway from the lesson was that when the amount of data becomes overwhelming, data visualizations can become helpful in determining the story behind the data. That's exactly what they're doing at the Auditor of State (AOS).
The Indiana Transparency Portal (ITP) uses the latest in data delivery technology to provide a more user friendly and in-depth look into Indiana's finances and assets. You can explore agency assets, state contracts, finances and more. It's a lot of data available at your fingertips. So in this lesson, we're going to introduce you to it and let you check it out for yourself.
First up in Lesson 6, you'll be introduced to the ITP by State Auditor Tera Klutz and learn about the types of publicly-available data that is searchable via these interactive dashboards. Then we'll link you to two of the live dashboards and then ask you to complete a few knowledge checks to complete the lesson.
ITP can be accessed anytime at www.IN.gov/itp.
<< Go back to Lesson Five: Data in the News | Go to Lesson Seven: Data in Sports >>
The lesson will open in a new browser window. Please contact us if you have any issues with the lesson.