Hello IDOC Employee and welcome to the Staff Wellness Portal!
Here you will find resources and tips related to all EIGHT dimensions of wellness. What are the eight dimensions of wellness? According to SAMHSA, each dimension of wellness can affect your overall quality of life. The dimensions are interconnected and build on one another. For example, when we worry about money (financial), we sometimes experience anxiety (emotional). This can lead to medical problems (physical), and trouble at work (occupational). It is important that we are cognizant of each dimension of wellness and focusing intentionally on how we can improve or maintain each. Courtesy of SAMHSA!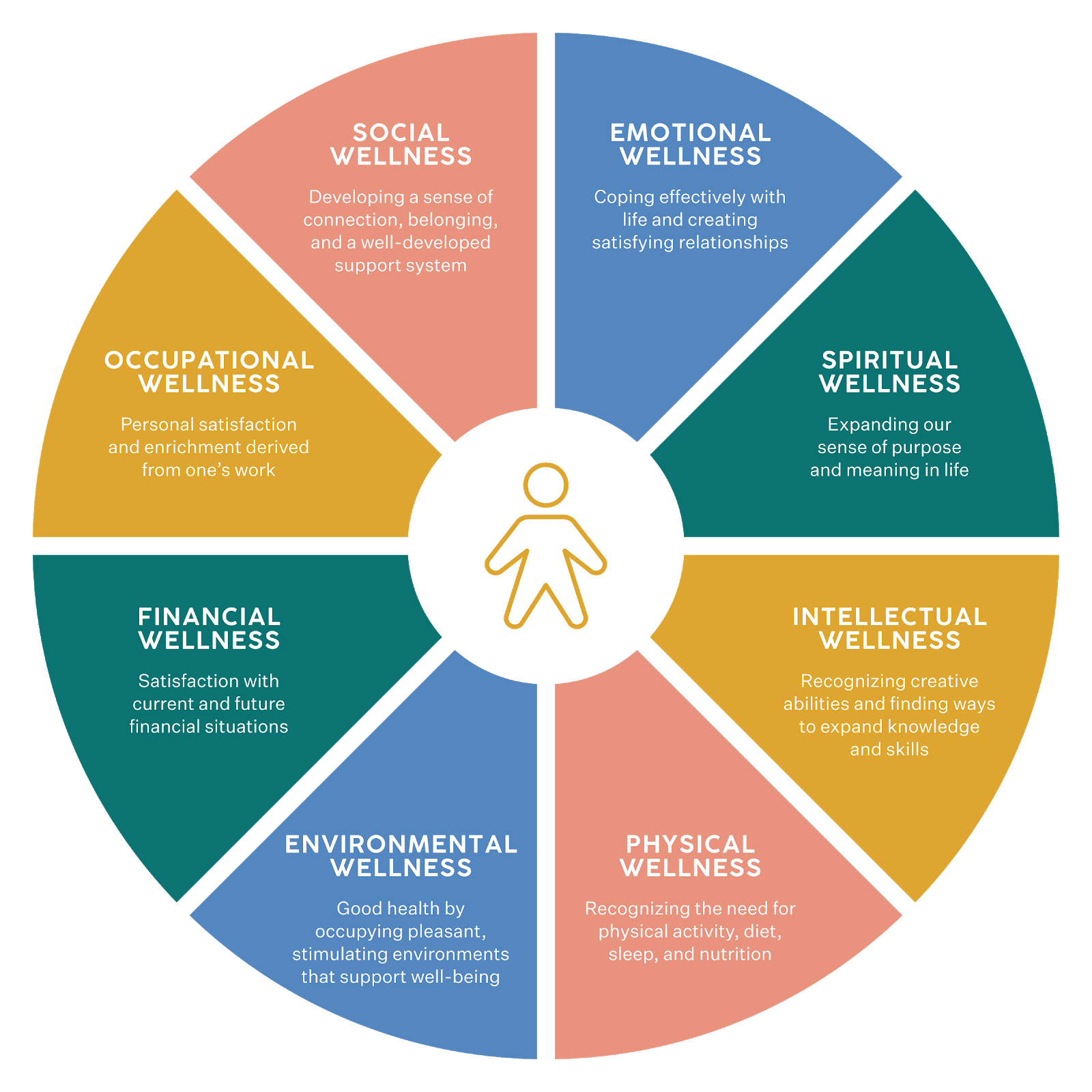 Image courtesy of: https://www.ginger.com/activities/wellness-wheel
We all have a unique wellness wheel, some of ours may be more balanced than others. Use this online wellness wheel assessment to get a better picture of what your wellness wheel looks like!
Once you identify which dimension(s) requires a little extra love, use this portal to access resources to get started on your wellness journey!
Occupational wellness includes job satisfaction, the ability to use one's talents and skills at work, and ambitions for professional growth and change
Quick Tips to Improve Occupational Wellness
Job Shadow within the department
Create connections with your co-workers
Reorganize your workspace
Explore your strengths
Foster healthy communication with coworkers with the 12 Effective Communication Strategies to Use at Work
Recruitment and Retention Team
(Courtesy of Natasha Jones – Recruitment and Retention Supervisor)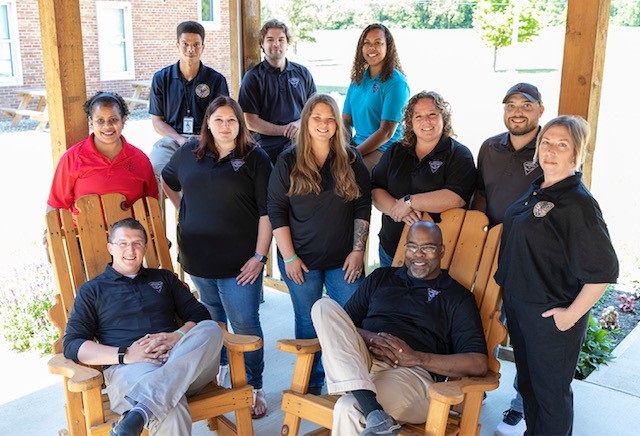 The Recruitment and Retention team is focused on wellness by engaging with staff employed with the Indiana Department of Correction. The Recruitment and Retention Team understands that increasing engagement correlates with understanding the relationship between a company and its employee. The RR Team focuses on retention by the following measures, staff engagement, roll calls, ops report follows ups and employee recognition. The RR team partners with the facility to help to maintain the lines of communication between employees, departments and facilities are open and clear. The RR team and the Facilities are looking for new and creative ways to improve the employee's emotional commitment to the workplace i.e.. the "culture" A healthy employee can improve the culture of the workplace.
ERO Teams information can be found on the IDOC website HERE
Empower Work @
Do you need a place to vent about work related issues? Empower work is a confidential text line for work issues. Text (510) 674-1414 to connect with a trained peer counselor immediately and ANONYMOUSLY.
Emotional wellness is the ability to successfully handle life's stresses and adapt to change and difficult times.
---
Quick Tips to Improve Emotional Wellness
Try out deep breathing or guided meditation

Oak App - download to smart phone

Balance App - download to smart phone - free for a year
Create a bedtime routine for healthier sleep
SPD: Employee Assistance Program (EAP) (in.gov)
Our Employee Assistance Program (EAP) is now through Optum and contains numerous resources at no additional cost to you! Through the live and work well website (liveandworkwell.com), you'll find resources including but not limited to substance use, mental health, parenting, and even legal support!
You can also find your personal authorization code for EIGHT free sessions with a licensed mental health professional. Keep in mind that wait times can sometimes last up to 10 days or more – remember it is best to schedule appointments before our mental health becomes unmanageable. We do not have to be in crisis to begin working with a mental health professional.
If you are unable to wait up to 10 days for help, please call 1-800-886-9747 to receive 24/7 confidential help.
---
From Correctional Fatigue to Fulfillment
Frequently Asked Questions Indiana Department of Correction
Spiritual wellness is being connected to something greater than yourself and having a set of values, principles, morals, and beliefs that provide a sense of purpose and meaning to life.



Quick Tips to Improve Spiritual Wellness

Explore your spiritual core
Connect with your faith community
Practice meditation
Practice journaling Journaling_Wellness.pdf
Engage in prayer

Religious community finder: The ARDA has a site to find any religious group in a community. It's not super user friendly, this site is not limited to any specific religion.  https://www.thearda.com/DemographicMap/
Learn more about religious groups HERE
Environmental wellness is having good health by occupying pleasant, stimulating environments that support well-being.
Quick Tips to Improve Environmental Wellness

Create a joyful living space

Declutter, add color, and bring in more light

Consider swapping out harmful chemicals around your home
Participate in a community garden
Consider carpooling to work
Take a walk around your local park
Financial wellness includes the total picture of your financial health, including how your financial situation affects your stress levels and overall mental and physical health. It is a constant journey of adjusting to maintain financial equilibrium.
---
Quick Tips to Improve Financial Wellness
Take a financial stress assessment
Use a budget that works for you
Schedule your two free meetings with a money coach
Check your credit report for errors
Build your financial literacy
Live and Work Well

Online financial stress assessment
Self-directed online learning modules on credit, debt, and budgeting
Financial calculator to assess your current situation
Tax consultation and preparation
25% discount for preparation of all personal income tax documents
2 calls with a money coach – 100% confidential

Included at no additional cost to you:
Physical wellness is listening to and taking care of your body for optimal health and functioning. It consists of recognizing the need for physical activity, healthy foods, and sleep, as well as preventing illness and injury or managing chronic health conditions.
---
Quick Tips to Improve Physical Health
None to Run - (said to be better for beginners)
A Day of Rest: 12 Scientific Reasons Why It Work
Social wellness refers to the relationships we have and how we interact with others. It involves building healthy, nurturing, and supportive relationships as well as fostering genuine connections with those around you. Social wellness also includes showing respect for others, oneself, and other cultures.
---
Quick Tips to Improve Social Wellness
Surround yourself with a good support system
Engage in hobbies and extracurriculars

Consider joining your facilities employee engagement committee

Practice effective communication Effective Communication - HelpGuide.org
Connect with your facilities community engagement coordinator
Find out more with the Social Wellness Toolkit.
Learn about paid community service leave @
Intellectual wellness recognizes creative abilities and encourages us to find ways to expand our knowledge and skills. Intellectual wellness can be developed through personal and professional development, cultural involvement, and community involvement.
---
Quick Tips to Improve Intellectual Wellness
Visit your local library
Join a professional organization

American Correctional Association ACA
Apps to keep your brain active: