Monthly Indiana Employment Reports
Below you'll find the most recent monthly Indiana employment reports along with those from previous years. Review the graphics to find the data you need or access the links to get more details.
Indiana's August 2023 Employment Report
INDIANAPOLIS (Sept. 19, 2023) - Indiana's unemployment rate in August stands at 3.4%, according to the Indiana Department of Workforce Development. By comparison, the national unemployment rate for August stands at 3.8%.
In addition, Indiana's labor force participation rate moved to 63.5% for August, remaining above the national rate of 62.8%. Indiana's total labor force, which includes both Hoosiers employed and those seeking employment, stands at 3,429,353 - a decrease of 714 from the previous month.
"The number of Hoosiers in the labor force remains near an all-time high, and the need for skilled workers has never been greater," said DWD Commissioner Richard Paulk. "Individuals looking for their next job are encouraged to visit a WorkOne office or utilize the online resources available through the Indiana Department of Workforce Development to re-enter the workforce and fill one of the many open positions across the state. For many of Indiana's most in-demand jobs, there are resources available to obtain the necessary skills Indiana employers require. Qualifying workers may be eligible for free training to help them increase their earnings."
Private sector employment in Indiana decreased by 4,400 jobs over the last month, resulting in a gain of 45,800 jobs from this time last year. Indiana's August private employment stands at 2,843,100.
Industries that experienced job increases in August included construction, which had 1,300 job added over the month, and manufacturing, which increased by 400 jobs.
As of Sept. 18, 2023, there were 104,794 open job postings throughout the state. In August, 15,247 unemployment insurance claims were filed in Indiana.
Individuals looking for work, training or career information are encouraged to visit in.gov/dwd/job-seekers.
Employment Snapshot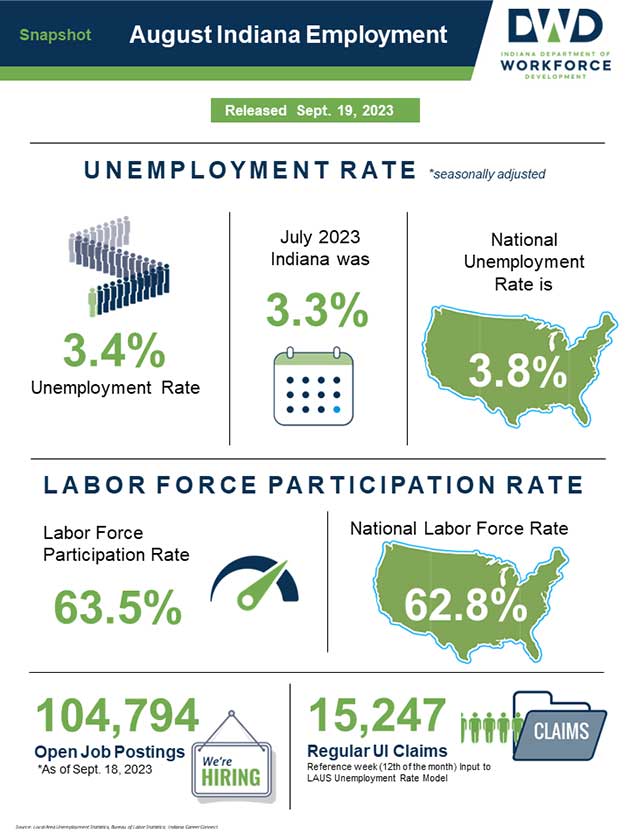 Labor Force Spotlight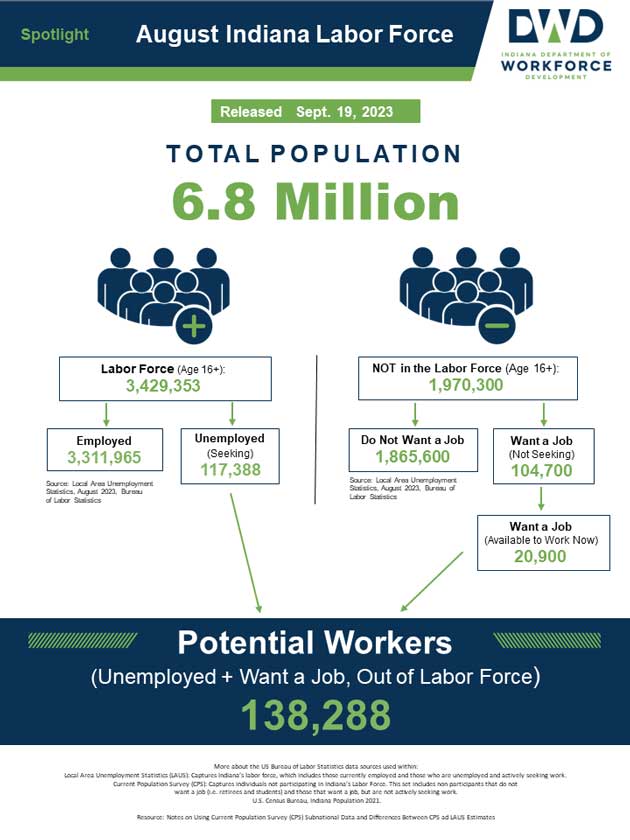 Editor's notes: Data are sourced from August Current Employment Statistics, Local Area Unemployment Statistics - U.S. Bureau of Labor Statistics, Current Population Survey – US Census Bureau.
August employment data for Indiana counties, cities and MSAs will be available Wednesday, Sept. 20, 2023, at 12 p.m. ET pending U.S. Bureau of Labor Statistics validation.