Fire Training
Academy Contact Information
About the Academy
The Indiana Fire and Public Safety Academy is an education and training subdivision of the Division of Fire and Building Safety.
The Academy has two subsections: (1) Public Safety and (2) Fire Training and Certifications. The Fire Training and Certifications staff establishes inspection training requirements for members of volunteer fire companies and certifies individuals who meet those requirements.
They also collaborate with public safety boards and commissions in the state to establish criteria for certification and credentialing of public safety personnel.
Upcoming Training Courses and Events

Note: Not all events on the IDHS calendar are organized, hosted or sponsored by IDHS or other state agencies. Some events are included for informational purposes as events that the public or first responders may find beneficial.
Training Flyers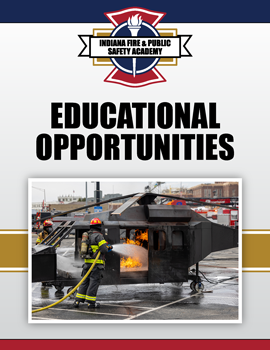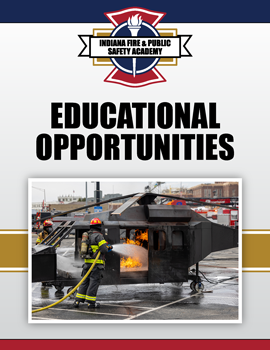 The Academy provides training and certifications to help fire and public safety personnel carry out their duties safely and effectively. Full course information and registration for state-sponsored courses is available on the Acadis Portal, but flyers for some of the Academy's training events and courses are available now for easy sharing via the Educational Opportunities page.
Flyers for non-state-sponsored educational opportunities, such as open classes organized and hosted by local fire departments, may be shared on the Educational Opportunities page as well. Visit the page to learn how to submit them.
News/Updates

---
Apply for Free IFSTA eLibrary Subscriptions
Fire departments now may apply for free IFSTA eLibrary subscriptions via https://on.in.gov/ifsta-library-request. Each user must have an IFSTA ResourceOne account to access these publications. ResourceOne accounts can be created via https://moodle.ifsta.org/.
The Indiana Fire and Public Safety Academy is funding this initiative as a benefit to all Indiana firefighters. It allows access to all IFSTA manuals free of charge for agencies, which traditionally have not been able to afford purchasing education textbooks, and is effective as of Oct. 30, 2023. Each firefighter will have an individual account with the most current editions available for viewing on both desktop and mobile devices.
Note: This service is only for Indiana firefighters and fire departments. It does not apply to career centers, universities, colleges or for-profit training institutions.
Questions regarding the IFSTA eLibrary should be directed to Shelly Elliott.
First Hub-and-Spoke Sites Break Ground
The first four sites in the Hub-and-Spoke Firefighter Training plan have held groundbreaking ceremonies for their new fire training centers that will help bridge the gap between Hoosier communities' firefighters and much-needed training. These training centers will feature state-of-the-art, three-story training towers. The first sites are in Rensselaer, Linton, Wabash and Corydon.
Gov. Eric J. Holcomb, IDHS and fire leaders kicked off the first phase of these efforts this summer following the General Assembly earmarking funds earlier in 2023. Learn more

Rensselaer


Rensselaer


Linton


Linton


Wabash


Wabash


Corydon


Corydon
Fire Certifications and Training
Get Alarmed Smoke Alarm Program
The IDHS Get Alarmed program works closely with service providers and fire departments to distribute smoke alarms to Indiana residents at no cost, thanks to a federal Fire Prevention and Safety Grant. For more information, visit the Get Alarmed page.
Grants
The Academy administers two state-funded grant programs to support public safety efforts, the Fire Training Infrastructure Grant and the Local Training Support Grant. Learn more about these grants