Fire Training

Academy Contact Information
About the Academy
The Indiana Fire and Public Safety Academy is an education and training subdivision of the Division of Fire and Building Safety.
The Academy has two subsections: (1) Public Safety and (2) Fire Training and Certifications. The Fire Training and Certifications staff establishes inspection training requirements for members of volunteer fire companies and certifies individuals who meet those requirements.
They also collaborate with public safety boards and commissions in the state to establish criteria for certification and credentialing of public safety personnel.
Upcoming Training Courses and Events

Training Flyers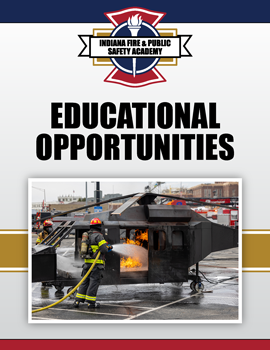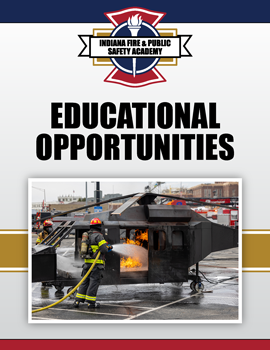 The Academy provides training and certifications to help fire and public safety personnel carry out their duties safely and effectively. Full course information and registration for state-sponsored courses is available on the Acadis Portal, but flyers for some of the Academy's training events and courses are available now for easy sharing via the Educational Opportunities page.
Flyers for non-state-sponsored educational opportunities, such as open classes organized and hosted by local fire departments, may be shared on the Educational Opportunities page as well. Visit the page to learn how to submit them.
News/Updates

---
National Training Weekend Opportunity at the National Fire Academy
The National Fire Academy is hosting a National Training Weekend Program on Nov. 4-5, 2023. National Training Weekends offer students a series of courses over one weekend in one location, Emmitsburg, Maryland. In addition, lodging is provided at no cost to personnel from career or volunteer departments and state/local governments. Students must pay for meals and transportation. There is no travel reimbursement for travel coming to and from this training. Courses to be offered include: W0146 Supervising Emergency Medical Services and W0647 Leadership in Supervision: Perspectives in Thinking.
Visit the National Training Weekend Program website for registration information.
Hub-and-Spoke Kicks Off
Gov. Eric J. Holcomb, IDHS and fire leaders held a kickoff press conference Aug. 25 in Plymouth announcing the first four new sites of the Hub-and-Spoke Training Model.
Updates to Fire Investigator and Driver/Operator Certification Courses
The Academy is updating its offerings of the courses for Fire Investigator and Driver/Operator certifications. For full details, see the Instructor's Corner in the Course Registration and Information section below.
Fire Certifications and Training
Get Alarmed Smoke Alarm Program
The IDHS Get Alarmed program works closely with service providers and fire departments to distribute smoke alarms to Indiana residents at no cost, thanks to a federal Fire Prevention and Safety Grant. For more information, visit the Get Alarmed page.
Grants
The Academy administers two state-funded grant programs to support public safety efforts, the Fire Training Infrastructure Grant and the Local Training Support Grant. Learn more about these grants