UAV Program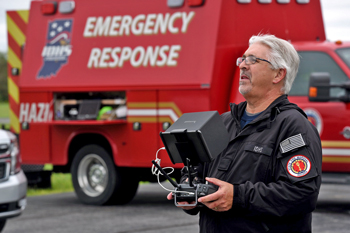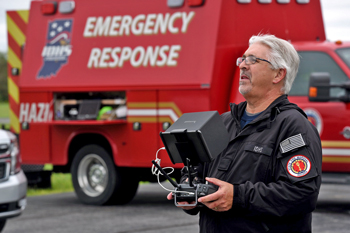 About the UAV Program
Unmanned Aerial Vehicles (UAVs), also known as drones, are versatile tools with numerous applications across various industries. These aerial devices are equipped with cameras and sensors, enabling them to perform tasks ranging from surveillance and monitoring to disaster response. For state and local governments, drones offer tremendous potential for enhancing efficiency, safety and cost-effectiveness in diverse operations.
IDHS has Federal Aviation Administration (FAA)-certified drone operators available to assist in a variety of tasks, including hazmat and fire incidents, search and rescue efforts and event security operations. IDHS also hosts an Unmanned Aerial Systems (UAS) skills camp where pilots can learn best practices from peers, practice flying and take proficiency tests.
To request emergency drone assistance, call the State Emergency Operations Center Watch Desk. When requesting assistance, provide as much detail as possible about the incident and what you need the drone to do. IDHS personnel will decide which drone is best for the scenario.
Read more about the UAV Program in the August 2020 edition of the Hoosier Responder.
IDHS Operations
The IDHS drones are active in a variety of operations assisting state and local partners. Examples include:
Fire Investigations: IDHS drones help fire investigators get an overhead view of fires and damaged structures. This perspective can help investigators get a full picture of the scene to assist with determining the fire cause and origin.
Disaster Responses: Drone operators help with disaster responses, including large fires and hazmat incidents. They also help with recovery operations by taking pictures of incident damage to help calculate damage costs, which can bolster state and federal emergency declaration efforts.
Event Security: IDHS drones fly at events such as the Indiana State Fair and concerts to monitor crowds and act as a deterrent to vehicle theft.
Search and Rescue Efforts: Covering more ground faster than rescuers on foot, IDHS drones assist search and rescue operations. They can spot a missing person and direct rescuers to their location, or they can assist rescuers by finding alternative routes when a path is impassable.
Special Projects: The drones have been used for special purposes, including mapping areas and monitoring of erosion along the Lake Michigan shoreline.
Equipment Demonstrations

The IDHS Hazmat Section offers demonstrations to public safety agencies in Indiana that are interested in starting a drone unit or want to learn more about how different types of drones work. Local departments can reach out to the Hazmat Section for an in-person training. Those interested in getting started with drones should review the FAA's Public Safety and Government webpage.

IDHS has several types of drones of varying sizes and capabilities. All have the ability to be deployed with cameras to give responders an eagle-eye view of an incident.

The DJI M30 is one of the bigger drones that can assist with mapping, response and search and rescue. It flies in all weather conditions to give vital information back to personnel on the scene.

The DJI Mavic Mini is one of the smallest drones IDHS has and is best used for interior searches and small incidents.

Skills Camp

IDHS partners with several public safety drone operations units and private industry to host a free drone skills camp annually in January. The camp, which is free to attend but requires pre-registration, provides drone teams from emergency management agencies, law enforcement agencies and fire departments three days to trade tips, demonstrate drone skills and test drone equipment.

Located at the Indiana State Fairgrounds in Indianapolis, the camp consists of lectures and demonstrations of UAV best practices, as well as ample time for drone operators to fly inside a large facility where they can do simulated interior searches, navigate National Institute of Standards and Technology (NIST) course layouts and learn from instructors as well as peers.

Read more about the camp in the February 2023 edition of the Hoosier Responder.

Registration for the January 2024 camp is expected to open in December. Subscribe to the skills camp email list to be notified when registration begins.