Lesson 7: Data in Sports
The Data Proficiency Program training lessons will arrive monthly in your inbox from mph@subscriptions.in.gov. If you are not receiving the lessons when they are posted via your state email account, you can subscribe to our mailing list to receive the monthly lessons.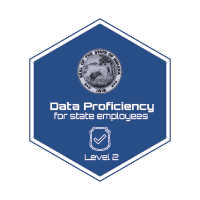 This lesson is the second lesson of Level 2 of the Data Proficiency Program. You're now working towards your Level 2 - Blue Badge.
---
Sports data is more than just stats on trading cards or improving your standings in your fantasy football league. Across sports types, leagues and levels, teams are using data to improve their performance and win!
Coaches and owners use data every day to replicate winning scenarios to improve their records and profitability. This is done through optimizing processes and studying the data to choose players and employees are the best fit for organizations.
Books and movies have been written about how data plays a large role in some teams' success stories. Moneyball, a movie which showcases how the Oakland A's used data analysis to develop their team, is just one example. This pop culture reference has become synonymous with data-driven decision making. In fact, Governor Holcomb has been recognized as a "Moneyball All-Star Governor" by Results 4 America. Learn more at moneyballforgov.com.
How can the State of Indiana continue to apply these strategies? What are the "winning scenarios" you would like to see replicated in your organization?
Learn more with the latest in the Data Literacy series from Arizona State University and Crash Course.
EXTRA READING
Here are a few more examples of how data is influencing the sports industry:
<< Go back to Lesson Six: Indiana Transparency Portal | Go to Lesson Eight: Understanding Election Data >>