Lesson 11: Know Your Data Privacy Rights
The Data Proficiency Program training lessons arrive monthly in your inbox from mph@subscriptions.in.gov. If you are not receiving the lessons when they are posted via your state email account, you can subscribe to our mailing list to receive the monthly lessons.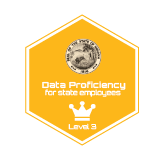 This lesson is the first lesson of Level 3 of the Data Proficiency Program. You're now working towards your Level 3 - Gold Badge.
---
As more of our data becomes digital, data privacy is taking on greater importance. The more that we can all understand about data privacy, the better we'll be able to protect important data.
In the video lesson from the Study Hall: Data Literacy series, you'll learn about what kinds of personal data are especially important to keep private, like Personally Identifiable Information (PII) and Private Health Information (PHI).
You'll also learn helpful information about how to keep our private data from getting into the wrong hands and about how third-party data is collected and used, many times without our knowledge.
The lesson also discusses how data privacy rights have evolved around the world. Here in the United States, regulations like the Health Insurance Portability and Accountability Act (HIPAA) and the California Consumer Privacy Act (CCPA) have strengthened data privacy rights.
Once you've watched the video, be sure to complete the extra reading below.
EXTRA READING
In this month's bonus reading, we've linked to a couple of articles that dive deeper into this month's topic, including how social media companies gather and share user data.
Google reaches $392M settlement with 40 states over location tracking (CBS News)
What Is Personally Identifiable Information (PII)? (US News & World Report)
References
<< Go back to Lesson Ten: Social Media Data | Go to Lesson 12: Keeping data secure