Lesson 8: Understanding Election Data
The Data Proficiency Program training lessons will arrive monthly in your inbox from mph@subscriptions.in.gov. If you are not receiving the lessons when they are posted via your state email account, you can subscribe to our mailing list to receive the monthly lessons.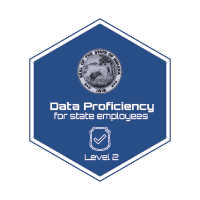 This lesson is the third lesson of Level 2 of the Data Proficiency Program. You're now working towards your Level 2 - Blue Badge.
---
There were no statewide elections held in Indiana in 2021, but rest assured, those involved in our election processes are hard at work in collecting and analyzing data to be ready for the next cycle.
Election data is a lot more than just the final vote tallies. In the video for lesson 8, you'll learn about the history of polling and polling data, plus how political polls monitor public opinion over time. Polls are conducted by independent research groups and news organizations or by firms hired by campaigns themselves.
EXTRA READING
In the extra reading for Lesson 8, check out the article How Political Campaigns Use Your Data from Reuters just prior to the November 2020 election. The article explains concepts you may or may not be familiar with like the U.S. "voter file", layering data, predictive models and data-informed campaigns. The article describes how "campaigns use data to inform decisions and create voter files about everything from where to send mailers, which places candidates should visit and where to buy or target TV ads (Reuters)."
MORE RESOURCES
Indiana Voter Portal
At IndianaVoters.IN.gov, you can get information on how to register to vote, who's on the ballot, voting hours at your polling location and more. The site, hosted by the Indiana Secretary of State, also offers election results, including historical data from past elections.
Ballotpedia
Ballotpedia (https://ballotpedia.org/) provides a vast amount of information about politics at all levels of government. The site is essentially a digital encyclopedia of American politics and elections at the federal, state, local, and territorial levels of government.
<< Go back to Lesson Seven: Data in Sports | Go to Lesson Nine: Health Data