The Office of Technology is pleased to announce a new way to receive IT support through a chat interface - making getting the services and questions you need to be answered easier and more convenient than ever before.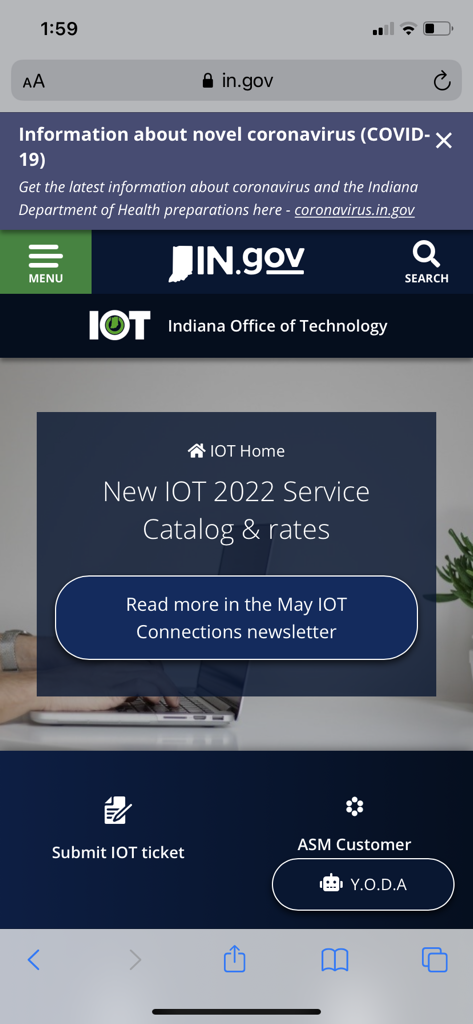 Simply by going to www.in.gov/iot and selecting the Y.O.D.A (Your On-Demand Assistant) bot at the bottom of the screen, customers can now access FAQs and self-help support documentation and request new products or services simply by selecting the service you need and completing a form. Finally, if you need technical support because of a problem you are experiencing, you will find some super-easy self-help troubleshooting steps, and if that doesn't work, you can connect with a live chat agent Monday-Friday 7 a.m.- 8 p.m. and Saturday 8 a.m.- 3 p.m. to get you the support that you need.
Users begin with an exploration of self-service opportunities before the option of chatting with a live agent is presented. Live chat is available during regular business hours. The entire bot interaction is given to the live agent, so they have the context of the requested assistance.
The key objectives of the chat initiative are:
Create a single source to connect the customer with IOT services and support.
Make finding IOT FAQs and User Documentation easier.
Provide simplified access to request new services or products: Mobile Phone, desktops, Firewalls, Account Requests, Billing Inquiries, and so much more.
Provide a self-paced solution that allows the customer to resolve common technical issues on their own. When that is not possible, customers can choose to connect with a live agent during standard business hours.
This mobile-friendly chatbot is located in the lower right-hand corner of your screen.
Anytime you think to call the IOT Help Desk, such as ordering a new service or fixing something that is not working correctly, try chatting with IOT instead.