Free Common Certificates in the State of Indiana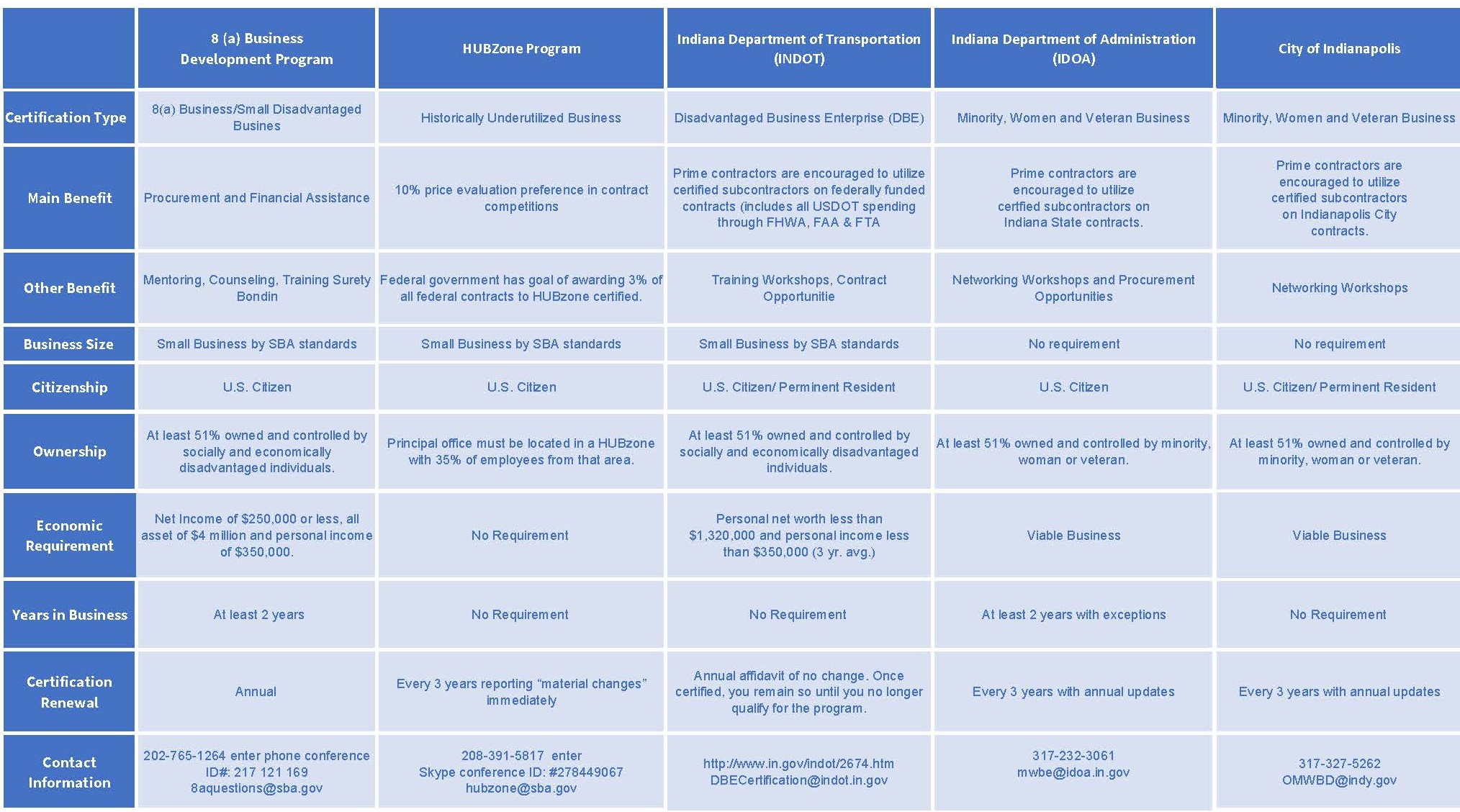 Doing Business with INDOT
While it can only help to be certified when trying to do business with INDOT, it is not necessary. Visit the "Doing Business with INDOT" section of the INDOT website to review business opportunities.
This is the gateway section, and under it you will find:
Construction Estimating Institute (CEI)
Provides the following services to Indiana based DBE's:
Business Plans
Marketing Plans
Website Developments
Capabilities Statements
1:1 Business Consulting
CEI is also conducting weekly "DBE Power Sessions", which are 30 minute short talks on topics important to helping you grow your business. For more information, contact CEI at: info@indbesupport.com or see their website at ceihome.com.
Indiana Small Business Development Center (ISBDC)
The Indiana Small Business Development Center (Indiana, SBDC), which is housed within the Indiana Economic Development Corporation, helps small businesses start, grow, finance, innovate and transition no-cost, confidential business advising and training. The Indiana SBDC was established in 1985 with funding support from the U.S. Small Business Administration and State of Indiana and has worked with over 50,000 entrepreneurs small businesses. With a network of 10 regional offices throughout the state, the Indiana SBDC helps Hoosier entrepreneurs and small businesses start stronger, grow faster and work smarter.
With 10 regional offices, there is likely an office near you. ISBDC provides many services useful for everything from concept development to growing a small business. Some of their services include registration guidance, developing a business plan, market research, assistance in securing financing and more. We greatly encourage you to contact your local ISBDC office which can be found through their website at http://isbdc.org/.
Hauling