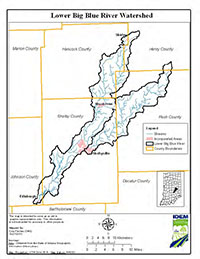 Click to Enlarge
Location
The Lower Big Blue River watershed is located in east central Indiana and drains a total of 280 square miles. The two 10-digit hydrologic unit code (HUC) subwatersheds that make up the Lower Big Blue River are Little Blue River (0512020408) and Big Blue River (0512020409). The Lower Big Blue River Watershed originates near southern Henry County and then flows southwest, where it ultimately meets Sugar Creek to form Driftwood River near Edinburgh. Major streams included in the TMDL report are Little Big Blue River, Big Blue River, DePrez Ditch, Anthony Creek, Nameless Creek, Manilla Branch, Beaver Meadow Creek, Gilson Creek, Six Mile Creek, Shaw Ditch, and Foreman Branch.
History
A comprehensive survey of the Lower Big Blue River watershed was conducted by Indiana Department of Environmental Management (IDEM) in 2009. The primary cause of impairment is Escherichia coli (E. coli). Potential pollution sources in the watershed include nonpoint sources from row crop agriculture and pastures, urban and rural runoff, land application of manure, and point sources from straight pipe dischargers, and failing home sewage treatment disposal.
Pollutants Addressed
TMDLs for the Lower Big Blue River watershed are established for E. coli and addressed 25 impairments. Some of the recommended solutions to address the impairments include stormwater controls, point source controls, manure management, and habitat improvements.
Timeline
The Draft TMDL Meeting was held May 7, 2014 at 2:30 PM. The meeting was held at the Shelby County Purdue Extension Office, 1600 East State Road 44, Suite C, Shelbyville IN, 46716
The 30-day public comment period was from May 13, 2014 to June 12, 2014.
The Lower Big Blue River Watershed TMDL was approved by U.S. EPA Region 5 on July 14, 2014 and addressed 25 E. coli impairments.
Subsequent to its approval, inaccuracies in the final report were discovered by IDEM, who informed U.S. EPA in December 2017. IDEM explained that it had mischaracterized how bacteria TMDLs in the final Lower Big Blue River Watershed TMDL report were calculated. A memorandum from IDEM and revised decision document from U.S. EPA were issued as a result.
The TMDL Report
Supplemental Information