Quick Links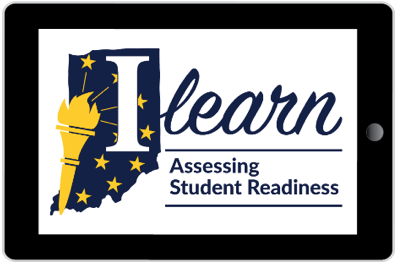 Overview, Participation, and Scheduling
Indiana Learning Evaluation Assessment Readiness Network (ILEARN) is the summative accountability assessment for Indiana students in grades 3 through 8 and high school biology. ILEARN measures student achievement and growth according to Indiana Academic Standards for English/Language Arts (grades 3 through 8), Mathematics (grades 3 through 8), Science (grades 4 and 6), and Social Studies (grade 5).
Students are required to participate in the ILEARN Biology End-of-Course Assessment (ECA) upon completion of the high school biology course to fulfill a federal participation requirement. The ILEARN U.S. Government ECA is available per state legislation as an optional assessment for students upon completion of the high school U.S. Government course. A student may only have one test attempt for any given ILEARN assessment. There are no retest opportunities available for ILEARN assessments.
There are four ILEARN test windows throughout the school year. Three ECA windows are scheduled to align with schools' course calendars. The U.S. Government ECA is available in the spring only. The fourth window is reserved for the ILEARN 3 through 8 assessments. Please review the 2021-2022 Indiana Assessment Windows for more details.
ILEARN is an untimed assessment. Corporations and schools should use the ILEARN Scheduling and TIming Guidance as they develop their local test schedules.
Participation and Scheduling Resources:
Test Design
Each online ILEARN assessment consists of a computer-adaptive test segment and a performance task, and fixed-form test segments for social studies and U.S. Government. Fixed-form tests are not adaptive and available only as an accommodation for students with formal accommodations.
ILEARN measures the breadth of Indiana Academic Standards. This means that all standards are represented in the test blueprints, including content area literacy, media literacy, listening, and computer science standards and the item specifications. Indiana educator committees collaborated with content experts to create the ILEARN test blueprints and item specifications.
The ILEARN Test Blueprints define the essential content which will be measured by the assessment. Each set of grade-level test blueprints are available in the table.
*Grade four and six science blueprints incorporate computer science standards. These are noted in the blueprint document with references of grades three through five or six through eight as defined in the Indiana Academic Standards.
Item Specifications define exactly how each standard will be measured on an assessment. Item specifications are used by professional item writers to create items and include information such as evidence statements, Depth of Knowledge requirements, and sample items.
Per the recommendations of the 2016 ISTEP+ Panel, the Indiana Department of Education (IDOE) is leveraging quality content from third-party item banks for use on ILEARN assessments. These item banks are accompanied by item specifications which will be utilized where alignment was confirmed by Indiana educators.
Visit the ILEARN Item Specification Database to view item specifications for each Indiana Academic Standard or download each set of grade-level item specifications from the table.
Access the web-based database: ILEARN Item Specification Database
**Some third-party item specifications include content beyond the scope of the associated Indiana Academic Standards. For these specifications, only those portions which align to the Indiana Academic Standard are used for ILEARN assessments. Indiana educators approved alignment of items to each Indiana Standard.
Additional resources related to the ILEARN blueprints and item specifications (e.g., instructional videos, infographics) are available in Moodle.
Sample Items, Scoring, and Reporting
In accordance with Indiana Code, IDOE releases 10 items from each grade-level ILEARN assessment every year. Released items are available in the Released Items Repository (RIR), Cambium Assessment, Inc.'s (CAI) simulated test delivery system. The items in the RIR may be used as sample assessments to familiarize students with test content and format.
Diverse panels of Indiana educators convened to consider many factors (e.g., Indiana's diverse student populations, the Indiana Academic Standards, national reference points) as they recommended ILEARN cut scores and Performance Level Descriptors (PLDs).
Schools are responsible for communicating student test results to parents in a timely manner. Parents seeking student scores should contact their child's school for assistance.
ILEARN Individual Student Reports (ISRs) reflect content-specific measures for English/Language Arts and Mathematics for each student in grades 3-8. Lexile® Measures provide insight into students' ability to read and comprehend text and serve as indicators to help select appropriate texts for their reading levels. Quantile® Measures indicate students' mathematical skills and help identify appropriate activities to support the development of mathematical skills and understanding. Visit MetaMetrics Hub for details and resources. Send any questions to Indiana's MetaMetrics team (jscott@lexile.com and mcopeland@lexile.com).
Pursuant to Indiana Code, IDOE defined a rescore request process for open-ended items appearing on ILEARN 3-8 and biology assessments. Corporations and schools must follow established guidelines when facilitating the rescores of student responses following each ILEARN test administration.
Sample Items, Scoring, and Reporting Resources:
Released Items Repository (RIR)
ILEARN Range Performance Level Descriptors
Other Resources:
Contact IDOE with questions about ILEARN: INassessments@doe.in.gov or 317-233-5191.