High School Assessments
Indiana provides a variety of assessments intended to support high school students and measure student progress. Some assessments may impact graduation requirements. More information regarding graduation requirements may be found on the Indiana Department of Education's (IDOE's) Graduation Pathways webpage.
High School Assessment Timeline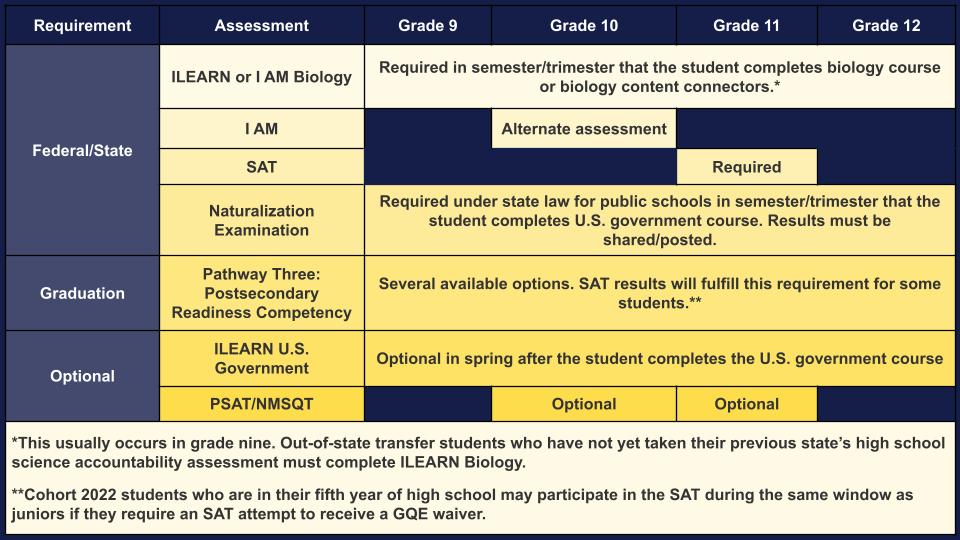 Click here for a long description of the High School Assessment Timeline graphic.
Indiana SAT
Indiana will use College Board's SAT to fulfill requirements pursuant to Indiana Code 20-32-5.1-7(d) for high school accountability. Students may also use scores to fulfill some high school graduation requirements. SAT assesses high school Mathematics, Reading, and Writing standards in grade 11. The SAT replaced the ISTEP+ assessment beginning with the 2021-2022 school year.
Frequently Asked Questions

When is the SAT held?

The SAT is administered in the spring of each school year, which began in spring 2022. The primary testing window for the SAT occurs in the first week in March. Students who have certain accommodations may test during an extended accommodated testing window that runs two weeks in March. A makeup testing window is also available in April for students and schools that are unable to test during the primary testing window. View this year's assessment windows on the Indiana Department of Education (IDOE) Assessment webpage

What is the test design for the SAT?

The Indiana SAT is a timed, online assessment comprised of Mathematics, Reading, and Writing segments. There are 65 minutes allotted for Reading, 35 minutes for Writing, 25 minutes for the non-calculator Mathematics segment, and 55 minutes for the calculator Mathematics segment. Certain students may receive additional time per their formal plan's allowable accommodations. The Reading and Writing segments of the SAT include multiple-choice questions with no essay portion. The Mathematics segments consist of multiple-choice and numeric response items.

Who participates in the SAT?

Grade 11 (junior cohort) students will participate in the SAT per the federal accountability requirement. Students with a valid attempt from the primary window may not choose to retest during the alternate window.

Students who have not yet graduated may use the SAT to achieve the graduation qualifying examination (GQE) requirement or to qualify for the GQE waiver. Schools must submit any of these students on this form to get them entered into the Test Information Distribution Engine (TIDE) when uploads begin in January. Additional grade levels may not participate in the statewide administration unless they fall under the graduation exception.

How can students prepare for the SAT?

How will students receive scores?

Students will access their scores through their student College Board account, with educators receiving access to scores after. Scores will include standard SAT scores as well as Indiana-specific proficiency levels. Students may elect to send their SAT score reports to up to four colleges/universities at no charge.
PSAT/NMSQT
The Preliminary SAT/National Merit Scholarship Qualifying Test (PSAT/NMSQT) is a standardized assessment administered by College Board and co-sponsored by the National Merit Scholarship Corporation (NMSC) in the United States. The State of Indiana provides funds (as appropriated in HEA 1001 [2021]) to measure students' college- and career-readiness, indicate student academic strengths and challenges, and provide additional support to students (I.C. 20-32-9-3). PSAT/NMSQT may be administered to students in grade 10 and/or grade 11 for this purpose.
ILEARN Biology End-of-Course Assessment (ECA) & Optional U.S. Government ECA
Information regarding the ILEARN Biology ECA and U.S. Government ECA for high school students can be found on IDOE's ILEARN webpage.
Naturalization Examination
Indiana Code 20-30-5-7 requires public Indiana high schools to administer the naturalization examination, provided by the United States Citizenship and Immigration Services (USCIS), to each student enrolled in a U.S. Government course where credit is awarded for General, Core 40, Core 40 with Academic Honors, or Core 40 with Technical Honors designation. Further information regarding administering and reporting this naturalization examination is available in this memo.
For general assistance regarding statewide assessments, please contact IDOE's Office of Student Assessment via email at INassessments@doe.in.gov or phone at (317) 232-9050.