EMS Training
Website Changes: Can't Find What You're Looking For?
EMS certifications and training information has been consolidated into fewer pages and reorganized into different sections as part of a larger effort to better organize the IDHS website and help users find information more easily. Here's what changed: ...
Some information has been reorganized into two kinds of sections:
Collapsible (drop-down) sections: Open and close when selected.
Tabbed sections: Allow you to select different tab headings to find different types of information.
For example, on the Individual Certifications page, application forms for different EMS positions are located in the Applications and Curriculum collapsible (drop-down) section. Once opened, you can choose which type of application form you want by selecting the different tabbed headings (EMR, EMT, etc.). The current selection is shown in white, while the other options are shown with blue headings.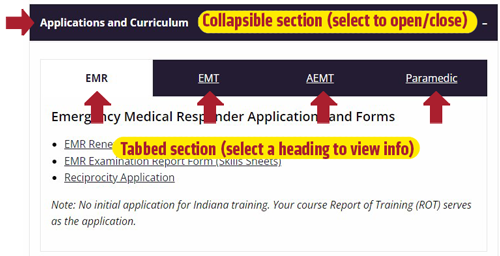 With more than 800 provider agencies, operating more than 2,000 emergency ambulances, by more than 24,000 emergency medical personnel, EMS is the frontline of our health care system safety net and stands proudly at the intersection of health care, public health and public safety.
EMS personnel earn certifications at different levels: emergency medical responder (EMR), emergency medical technician (EMT), advanced EMT (AEMT) and paramedic. These certifications prepare and authorize them to perform specific types of medical care, which are listed in the EMS scope of practice.
State legislation in recent years has paved the way for an innovative patient-centered model of care called Mobile Integrated Health (MIH), also known as community paramedicine. Learn more about MIH in Indiana as the field of EMS continues to change.
Upcoming Trainings

News/Updates

---
Audits Process Updated
EMS audits randomly occur upon renewal of EMS certifications and licensures. Starting in April, IDHS is implementing a more automated system for better tracking and efficiency in processing the audits. This includes auto-generated emails that provide a link for individuals to use to submit required information for the audit. Learn more about the changes
Hospital Diversion Guidance
As hospital capacity has diminished and ambulance providers are experiencing challenges with diversion and off-loading delays, the EMS Section has worked with the Indiana Department of Health (IDOH) to come up with guidance for EMS providers. The guidance below includes specific guidance for EMS on how diversions and off-load delays can be handled by EMS and also how diversion status can be checked via an EMS organization's EMResource account.
The Acadis Portal is the hub for online EMS training and certifications.
Find a forgotten Public Safety ID number or verify if one has been assigned yet.
Find or post job vacancies for local emergency management or other first responder agencies.
EMS Training Areas