EMS Training
Website Changes: Can't Find What You're Looking For?
EMS certifications and training information has been consolidated into fewer pages and reorganized into different sections as part of a larger effort to better organize the IDHS website and help users find information more easily. Here's what changed: ...
Some information has been reorganized into two kinds of sections:
Collapsible (drop-down) sections: Open and close when selected.
Tabbed sections: Allow you to select different tab headings to find different types of information.
For example, on the Individual Certifications page, application forms for different EMS positions are located in the Applications and Curriculum collapsible (drop-down) section. Once opened, you can choose which type of application form you want by selecting the different tabbed headings (EMR, EMT, etc.). The current selection is shown in white, while the other options are shown with blue headings.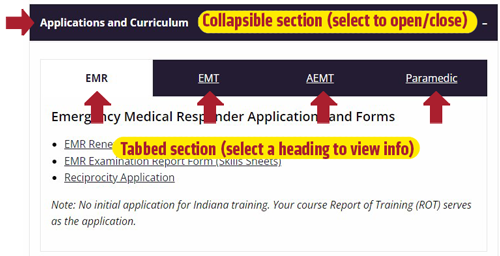 About Indiana EMS
With more than 800 provider agencies, operating more than 2,000 emergency ambulances, by more than 24,000 emergency medical personnel, EMS is the frontline of our health care system safety net and stands proudly at the intersection of health care, public health and public safety.
EMS personnel earn certifications at different levels: emergency medical responder (EMR), emergency medical technician (EMT), advanced EMT (AEMT) and paramedic. These certifications prepare and authorize them to perform specific types of medical care, which are listed in the EMS scope of practice.
State legislation in recent years has paved the way for an innovative patient-centered model of care called Mobile Integrated Health (MIH), also known as community paramedicine. Learn more about MIH in Indiana as the field of EMS continues to change.
News/Updates

---
Training Grant Opportunity for Fire Departments and EMS Providers
The Indiana Department of Workforce Development offers the Employer Training Grant, which allows employers in a high-demand business sector to be reimbursed up to $5,000 for each newly trained current or new full-time employee, and up to $1,000 for high school students. Paramedics/EMTs and firefighters are on the list of eligible occupations. Learn more and apply
Reactivate Your Acadis Account
As part of its ongoing system maintenance procedures, IDHS may deactivate user accounts that do not register system activity for an extended period of time. If your account has been deactivated, it is likely you have not had any activity on your account for 12 months or longer. However, account deactivation does not mean your account has been deleted, and the Acadis system will maintain a historical record of certifications and trainings even if an account has been deactivated.
If you believe your account has been deactivated and you would like to request account reactivation, you may complete this form and submit it to IDHS. If you are unsure whether your account has been deactivated, please attempt to reset your Acadis password and retrieve your PSID prior to completing this form.