Secured School Safety Grant Program
About the Secured School Safety Grant Program
Since being signed into law in 2013, the Indiana Secured School Safety Grant (SSSG) Program has served as a critical resource to ensure Hoosier schools are safe and secure. The program has awarded about $133 million in matching grants to Indiana school districts across the state to address potential safety threats and help them prepare. The program supports a dedicated state grant fund that provides matching grants to school corporations, accredited non-public schools, charter schools or a coalition of school corporations and/or charter schools applying jointly to:
Employ a school resource officer* (salary, benefits and basic 40-hr training course);
Conduct a threat assessment; and/or
Purchase equipment to restrict access to the school or expedite the notification of first responders;
Support firearms training in districts that choose to implement such programs (new for FY20);
Support the implementation of a student and parent support services program (new for FY20);
Fund the one-time startup costs of an active alert warning system (new for FY 20)
The budget passed during the 2019 General Assembly session allocated $19 million to the SSSG program for school grants and administrative costs.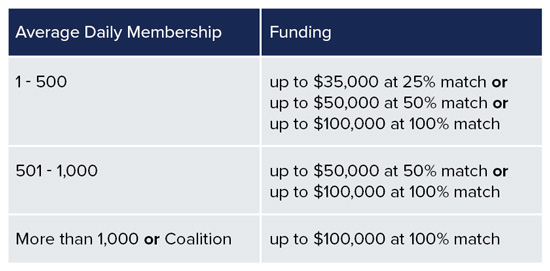 *School Resource Officer (SRO) Qualifications: To qualify for funding through SSSG, an SRO must be a graduate of the Indiana Law Enforcement Training Board (LETB) basic training program per Indiana Code (IC 5-2-1-9), have received (or is in the process of receiving) 40 hours of SRO training through the LETB, the National Association of School Resource Officers or another program approved by the LETB, be assigned to one or more school corporations, private or charter schools, and be currently employed/appointed by a law enforcement agency. Also, following 2019 legislative changes, SSSG is now able to reimburse schools for employing a law enforcement officer and/or entering into a MOU with local law enforcement agency for a LEO to serve in schools. SSSG will reimburse for salary and fringe benefits for LEO staff. Schools are also able to apply for the LEO to take the 40-hour BASIC SRO training and become a certified SRO, if applicable.
Application (Notice of Funding Opportunity)