State Fire Marshal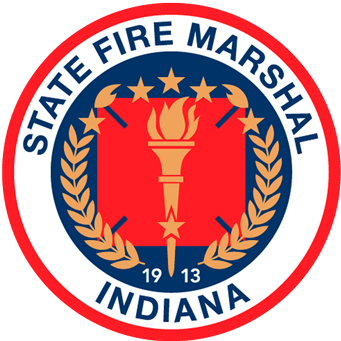 About the State Fire Marshal
The Indiana State Fire Marshal is a governor-appointed position that also serves as the director of the IDHS Division of Fire and Building Safety.
The marshal oversees fire prevention and protection services such as the Indiana Fire & Public Safety Academy, regulated device and code enforcement inspections, emergency medical services, fire investigations and hazardous materials and radiation training and support.
The governor appointed Joel Thacker as state fire marshal in 2020. Learn more about him
News/Updates
New Initiative to Collect PFAS Foam From Fire Agencies
IDHS and the Indiana Department of Environmental Management (IDEM) are launching a free program to collect and dispose of Per- and Polyfluoroalkyl (PFAS) foam from Indiana fire agencies. Read about the new initiative and contact firemarshal@dhs.in.gov with questions.
Discover training and certification updates for fire, EMS and emergency personnel (and more).
Find where deaths have occurred in residential fires statewide.
Go to the ImageTrend Reporting page to learn how fire and EMS agencies report data to the state.
Visit the Get Alarmed page to learn about fire safety or to report smoke alarm installations.
For first responders: Get immediate help or resources on stress, depression, addiction and more.
Nominate a public safety worker for recognition from the State Fire Marshal or the EMS Section.
Sections and Services