Code Enforcement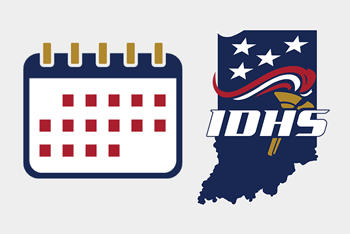 Schedule an Appointment
Please schedule an appointment online before you visit to conduct business with IDHS. No walk-ins will be accepted. Note: This system is not to be used for scheduling inspections.

Hours
8 a.m. – 4:30 p.m. Monday – Friday
except state-observed holidays
Indiana Dept. of Homeland Security
Indiana Government Center-South, Room E208
302 W. Washington St.
Indianapolis, IN 46204-2739
Call us: 317-232-1407
Email us: codequestions@dhs.in.gov
Please allow 48 hours for a response, and do not leave multiple voicemails or send multiple emails.
News/Updates
Haunted House Guidance During COVID-19
The Code Enforcement Section has issued guidance for haunted houses that plan to operate in the fall 2020 season.
Code Enforcement Guidance During Phased Reopening
The Code Enforcement Section resumed inspections on May 6 and has put together
guidance for businesses and local code officials
to inform them on IDHS' plans for helping determine temporary occupancy loads and conducting other inspections.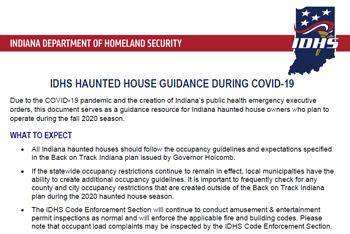 About the Code Enforcement Section
The Code Enforcement Section provides building and fire-safety related inspections, training and guidance throughout the state of Indiana. Code officials work with local building, fire and enforcement departments to provide continuous educational training, building and fire code interpretation and on-site inspection assistance.
In jurisdictions where there is not an approved building department, Code Enforcement inspects Class I structures for construction compliance. When a Construction Design Release is applied for through the Building Plan Review Section, Code Enforcement will conduct inspections during the construction process and provide a final inspection.
Agricultural buildings and residential structures (one- and two-family dwellings) fall under the jurisdiction of the local government entity. If there is no local government entity, then the local county government may provide inspections. Designated via Home Rule in state statute, residential dwellings fall to the responsibility of the local government entity if there is one. In the event there is no local, the residential issue becomes a private civil matter.
Apply for a Permit
Update: Permits and status requests for fireworks and amusement and entertainment are now accessed via the Public Safety Portal. In accordance with the state's goal to modernize and offer better customer service to Hoosiers, apply online and not by paper.
Please use the Public Safety Portal for permit applications and status requests relating to fireworks, amusement and entertainment and outdoor event equipment. If applying for amusement and entertainment permits, visit the Application for Amusement & Entertainment Permit page for instructions before using the Public Safety Portal.
Public Safety Portal
Note: When completing an online application, please use browsers Chrome or Edge; other browsers may experience issues.
Code Areas and Other Resources