Individual Certifications
Audits Process Updated
EMS audits randomly occur upon renewal of EMS certifications and licensures. IDHS has implemented a more automated system for better tracking and efficiency in processing the audits. This includes auto-generated emails that provide a link for individuals to use to submit required information for the audit. Learn more about the changes
Website Changes: Can't Find What You're Looking For?
EMS certifications and training information has been consolidated into fewer pages and reorganized into different sections as part of a larger effort to better organize the IDHS website and help users find information more easily. Here's what changed: ...
Some information has been reorganized into two kinds of sections:
Collapsible (drop-down) sections: Open and close when selected.
Tabbed sections: Allow you to select different tab headings to find different types of information.
For example, on the Individual Certifications page, application forms for different EMS positions are located in the Applications and Curriculum collapsible (drop-down) section. Once opened, you can choose which type of application form you want by selecting the different tabbed headings (EMR, EMT, etc.). The current selection is shown in white, while the other options are shown with blue headings.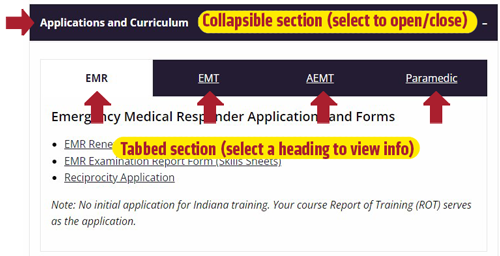 General Information
Information on Indiana Certification and Training Standards can be found in IAC 836 Article 4.
If your Indiana certification has been expired for more than 4 months or you were unable to complete your continuing education prior to expiration, complete the Recertification Based on Previous Certification application.
You are only eligible to challenge the written and practical testing one time.
If you completed your in-service prior to expiration, and it has been less than 120 days since expiration, you can submit your continuing education/renewal form and $50.00 reapplication fee. Only check, money order or certain credit cards are accepted (no cash). For credit card payment use the Credit Card Form. Submit in person or by certified mail.
Applications, Curriculum, Testing and Continuing Education
Select the collapsible (drop-down) sections below to find the following EMS information:
Applications and Curriculum for applications, renewals and other guidance, such as:

Initial applications
Renewal and continuing education reports
Reciprocity applications and curriculum
Exam report forms (skills sheets)
Testing for information on how to register for testing, such as tests for:

EMRs
EMTs
AEMTs and paramedics
Primary instructors
Online Continuing Education for websites that offer free online courses that can be used for continuing education hours
Applications and Curriculum

Primary Instructor Application

Emergency Vehicle Operator Course Application

Green Light Permit Application

Testing

Below you will find information on how to register to take an Indiana EMS cognitive (written) or psychomotor (practical) exam as well as how to register to take the National Registry Exam.

Emergency Medical Responder

Primary instructors administer EMR psychomotor exams. Ivy Tech testing centers administer EMR cognitive exams.

Emergency Medical Technician

The EMT psychomotor examination is an Indiana practical exam. Locate exams by contacting a primary instructor or searching your Acadis Portal account using the filter "EMS Practical Examination."
The EMT cognitive examination is the NREMT EMT Cognitive Exam.

Advanced EMT (AEMT) and Paramedic

Both the cognitive and psychomotor exams for paramedics and AEMTs are done via the NREMT.

Primary Instructor

The Indiana primary instructor written examination is available at Ivy Tech testing centers.

Online Continuing Education

The following list of websites offers free online courses to anyone who is interested. These courses can be utilized for Continuing Education Hours (CEUs). If you complete a course, please make sure that you print off a copy of the completion certificate to verify the number of CEUs and that you have successfully completed the training. These may be required if your certification is audited.