Emergency Medical Services

EMS Section Contact Information
About Emergency Medical Services (EMS)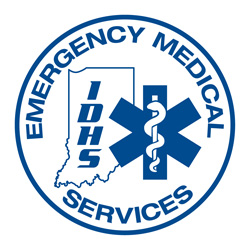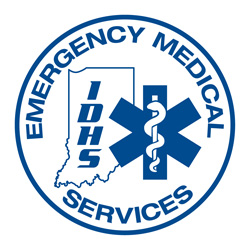 Emergency Medical Services, more commonly known as EMS, is a system that provides emergency medical care to Hoosiers more than 2,000 times per day. Once it is activated by an incident that causes serious illness or injury, the focus of EMS is emergency medical care of the patient. EMS is most easily recognized when emergency vehicles or helicopters are seen responding to incidents, but EMS is much more than a ride to the hospital. It is a system of coordinated response and emergency medical care, involving multiple people and agencies. The Indiana EMS system is ready every day for every kind of emergency. With more than 800 provider agencies, operating more than 2,000 emergency ambulances, by more than 24,000 emergency medical personnel, EMS is the frontline of our health care system safety net and stands proudly at the intersection of health care, public health and public safety.
EMS personnel earn certifications at different levels: emergency medical responder (EMR), emergency medical technician (EMT), advanced EMT (AEMT) and paramedic. These certifications prepare and authorize them to perform specific types of medical care, which are listed in the EMS scope of practice.
State legislation in recent years has paved the way for an innovative patient-centered model of care called Mobile Integrated Health (MIH), also known as community paramedicine. Learn more about MIH in Indiana as the field of EMS continues to change.
EMS District Managers
EMS district managers are assigned to IDHS districts and are resources and liaisons for EMS information for individuals and organizations. They address questions about EMS operations and rules, the ImageTrend data system and complaints and investigations. District managers handle provider organization certifications and serve as points of contact on questions for individual certifications.
News/Updates
IDOH: $1M Awarded to MIH Programs
The Indiana Department of Health (IDOH) has awarded $1 million to community paramedicine programs in Indiana: Clarksville Fire Department ($315,000), Wabash Township Fire Department ($315,000) and Posey County EMS ($370,000). The awards are part of the 2023 round of IDOH's Indiana Health Issues and Challenges Grant. Learn more about the program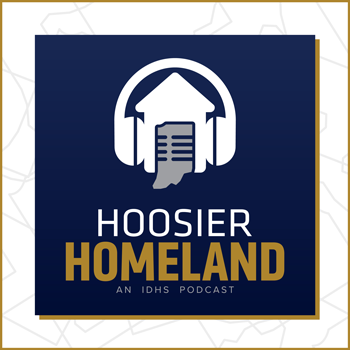 Hoosier Homeland Podcast: State of EMS
Dr. Eric Yazel, the State EMS Medical Director, discussed the Governor's Public Health Commission Report, COVID-19's effect on the Indiana EMS system and how IDHS is working on the critical challenges facing EMS today on the Hoosier Homeland podcast. Listen to the podcast
Governor's Public Health Commission and EMS
The Governor's Public Health Commission released its report in August 2022 with recommendations for six different facets of public health, including EMS. Learn more about the recommendations
FY23 Naloxone Grant Available to Rural First Responder Agencies
The Indiana Department of Health is accepting applications for intranasal naloxone for first responders in rural counties. Learn more and apply
Recent Updates
EMS Commission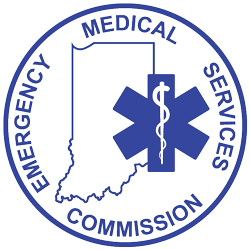 The EMS Commission is responsible for the establishment and maintenance of an effective system of emergency medical services. This includes the necessary equipment, personnel and facilities to ensure that all emergency patients receive prompt and adequate medical care throughout the range of emergency conditions encountered. The commission has also established the Mobile Integrated Health Advisory Committee. Visit the EMS Commission page for more information, including instructions on submitting a waiver and recent meeting minutes.