School Safety Training
In partnership with Indiana educators and local law enforcement, ISP conducts various training sessions throughout Indiana. Training sessions help schools and law enforcement agencies establish partnerships necessary for coordinating a unified and effective response to various incidents.
Joint Training Sessions
Joint Training Sessions are held in each of the Indiana State Police Districts. Each session features the "unarmed response" to an active shooter concept from an informational and a practical drill perspective. Sessions are scheduled by ISP District Public Information Officers in cooperation with local school and law enforcement personnel.
Indiana School Safety Specialist Training
The Indiana School Safety Specialist Academy (ISSSA) provides ongoing, certified training and information on national and state best practices, as well as exemplary resources for school safety, security, intervention/prevention, and emergency preparedness planning. Learn more about ISSSA here.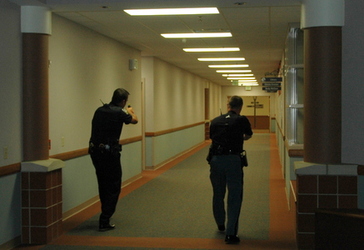 -->