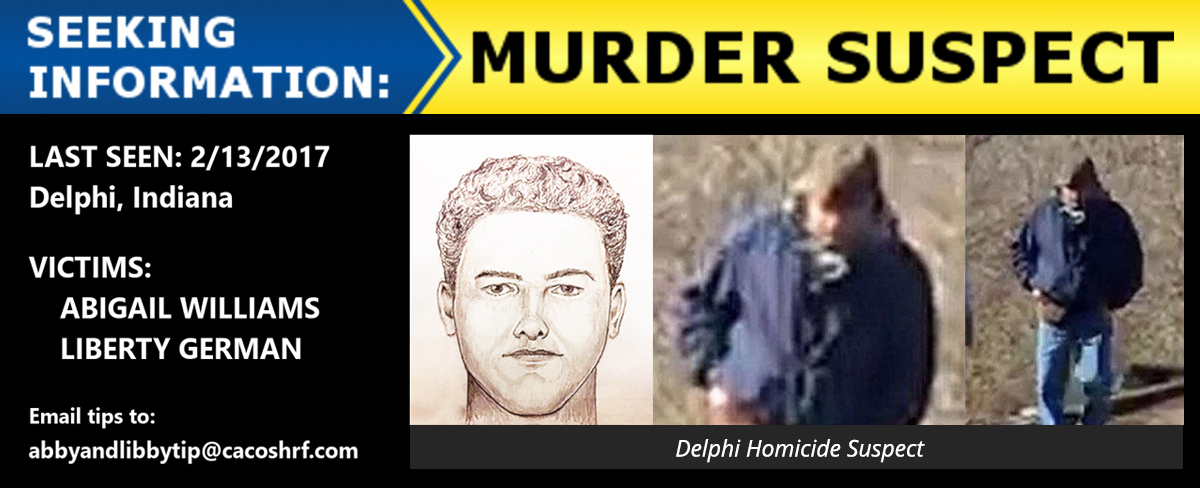 The Delphi Police Department, the Carroll County Sheriff, the Indiana State Police, and the FBI are asking for your assistance in identifying the suspect in the double homicide of two teenage girls, Abigail J. "Abby" Williams, 13, and Liberty Rose Lynn "Libby" German, 14, both from Delphi.
On Monday, February 13th, at approximately 1:00 p.m., the two young girls were let off near the Monon High Bridge, an abandoned rail bridge over Deer Creek to walk around and hang out. They were to be picked up later in the afternoon, but did not show up there at the previously arranged time. Following an extensive search, at approximately 12:15 p.m. on February 14, 2017, the bodies of the two girls were found in a wooded area near the Delphi Historic Trail, approximately one-half mile upstream from the bridge.
Additionally, investigators have released an updated voice recording and video of the suspect not previously released that was extracted from Liberty "Libby" German's cell phone.
Click one of the following links to download the recording or the video:
Audio downloads:
Delphi_Audio_Edited_2019x3.wav
Delphi_Audio_Edited_2019x3.ogg
Delphi_Audio_Edited_2019x3.mp3
Video downloads:
Delphi_MotionFix.mp4
Delphi_MotionFix.ogv
Delphi_MotionFix.webm
Delphi_MotionFix.wmv
Email is the preferred way to send tips to help solve this crime.
Anyone with information about this case is encouraged to send tips to this email address: abbyandlibbytip@cacoshrf.com
Information sent by email is kept confidential and is only shared with investigators.
Tip Information Contacts
Email:
abbyandlibbytip@cacoshrf.comTip Line: (765) 822-3535
Information can be reported anonymously; however, the Indiana State Police, the FBI, and the Carroll County Sheriff's Department have announced a reward for information leading to the arrest of the person or persons responsible for the homicides of Liberty German and Abigail Williams. The amount of the reward may be in excess of $200,000 depending upon the value of the information provided.
Law enforcement authorities reserve the right to reject a claim for reward where there has been collusion or criminal involvement. The reward may be apportioned between various persons and/or paid for the arrest of the responsible person(s), as the circumstances fairly dictate.
The Indiana State Police Alliance (ISPA) has established an account for individuals or businesses wishing to donate to the Delphi Reward Fund. Checks should be made payable to the Indiana State Police Alliance Foundation. "Delphi Reward" should be entered on the memo line. Donations can be mailed to:
Indiana State Police Alliance
1415 Shelby Street
Indianapolis, IN 46203
All suspects are innocent until proven guilty in a court of law.