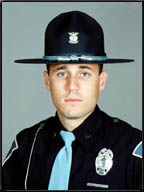 Hometown: Brownsburg, Indiana
Appointed: December 13, 1998
District: Fort Wayne
September 27, 1972 - April 3, 1999
While on patrol in Adams County, Trooper Elson stopped a pickup truck on US 27 in the city of Decatur. As Trooper Elson exited his patrol car, the driver of the truck opened fire with an automatic assault rifle. Trooper Elson was pronounced dead at the scene.
Grave Site